By: Berania Barraza
During the pandemic, stay-at-home orders were put into place. This caused people to work and attend school in the comfort of their own homes. With extra time from being at home, the Paavola family sought the opportunity to foster dogs.
In November 2020, Nina Paavola, wife and mother of three, wanted to gift her kids the joy of owning a dog for Christmas. After a quick google search, she came across Barks of Love.
Barks of love is a 100 percent no-kill foster-based non-profit which predominantly runs in Orange County. A rescue dedicated to saving dogs from shelters and placing them in foster homes while they await a more permanent solution like adopting where they can find a furr-ever home.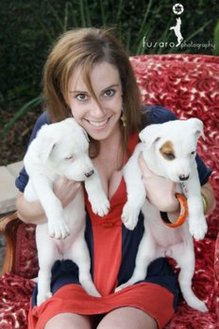 Ashley Cunningham founded Barks of Love in 2008 after the rescue she used to volunteer for went bankrupt. With a strong passion for dogs, she decided to create a rescue of her own. Currently, she is the acting Chief Financial Officer (CFO) of Barks of Love. As CFO, Cunningham focuses on fundraising and building donor relations.
One of Barks of Love's missions is to increase foster and adoption rates.
To elaborate, Barks of Love is a rescue. The difference between a shelter and a rescue is that shelters are funded at the local or state level. In contrast, rescues are typically non-profits run by individuals who rely on public donations.
(Ashley Cunningham - Founder of Barks of Love)
As a non-profit, Barks of Love is volunteer-driven. Currently, they have around 20 active volunteers. Six of them are vital volunteers who help run the organization. They have a medical coordinator, foster coordinator, board of directors, webmaster, and social media manager. As volunteers, they help walk dogs, table events, or become foster parents themselves.
All donations help fund their foster dogs' expenses. Costs include but are not limited to food, beds, and medical visits. The only expense not covered is pet fees, also known as pet rent, which is commonly asked by landlords when renting apartments or houses.
The reason why they do not provide help for pet rent is due to two reasons. The first is the uncertainty that a foster parent will commit to an entire month with the foster. The second reason is that they are donation funded and can't guarantee that they can afford to pay that fee every month. As reported by Zillow, a website that helps renters find housing, pet fees can range anywhere from $25 to $100 per month.
(Osito (dog) rescue. His mouth was rotten and he had holes in his jaw that went into his sinuses. After extensive treatment he was adopted by his foster: Photo credit: Barks of Love)
Cunningham smiles as she explains how they operate differently than a shelter, "We do things a little backward… we find our foster homes first and then find the dogs that match."
Despite not having a facility to run their organization, they work with a kennel located in Yorba Linda. The kennel is operated by trainers whom they trust to take good care of their un-fostered dogs until they find them a foster home.
Currently, Barks of Love has five dogs in their foster system; Foxy, Nyla, Mocha, Champ, and Rocky, who will soon be available to be fostered. Mocha is in the works of getting adopted, and Foxy is currently in need of a foster home.
One of Ashley's passion projects within Barks of Love is their "Little Barkies" program, an outreach program catered for children. Little Barkies was created in 2010 when she realized there were a lot of Girl Scouts and kids who wanted to get involved with Barks of Love. In this program, kids learn how to treat dogs humanely, what dogs can and can't eat, and kids can also develop their reading skills as they read to dogs in shelters which is part of their rescue readers initiative.
"I'm a mother. I have two children, and I know the importance of reading books, and so when they're reading to the dogs, there's no judgment," says Ashley passionately.
She believes the Rescue Readers program can boost children's confidence while the dog receives attention and exposure to children.
"We're trying to also focus on community outreach, and we want to educate people on humane treatment of animals," Paige Lefever – President of Barks of Love.
Due to COVID-19, Barks of Love has temporarily ceased their in-person Rescue Readers program and is currently working on a virtual solution where children can read to dogs in shelters through video calling. They expect to roll out the virtual program in 2022.
Paige explains that Barks of Love makes an effort to make sure financial hardships don't get in the way of helping someone foster a dog, "Anything that they need we will provide. If they need dog food, we will order it online and have it shipped directly to them."
They also work with five veterinary clinics across Orange County, close to the foster parents. Barks of Love covers all medical expenses, whether x-rays, blood tests, or surgeries.
(Paige Lefever - President of Barks of Love)
Despite being a rescue, Barks of Love doesn't host adoption events with tables set up where people can choose a dog and take them home that same day. There are two reasons why they do this.
The first reason is due to the fact that they only have a handful of dogs, and it's challenging to coordinate all the foster parents to show up to an event. The second reason is that they want to make sure all of their dogs have a safe environment to roam.
"On average, you're gonna be lucky if you get 25% of your dogs to an event. Well, we have five dogs, so 25% is one dog, and that's not very exciting, and it's not going to catch people's attention," Lefever.
This non-profit has a slightly longer process for adopting and fostering one of their dogs. You have to fill out an application, go through an interview process, and have a home check to ensure a suitable environment for the foster dogs to live in. This process helps keep the return rate low.
Instead of hosting adoption events, Barks of Love has focused on community outreach to help them receive exposure and attract donors and foster/adoptive applicants. A good example is their Holiday Boutique hosted on November 28, 2021, with 20 vendors, food trucks, and photos with Santa.
Barks of Love pride themselves on being matchmakers for their fosters. They connect dogs to foster parents that have compatible lifestyles.
Paige recounted when someone applied to adopt Foxy, a 65-pound pit bull and found out their landlord had a weight restriction for dogs over 30 pounds. As a team, Barks of Love came up with a solution by recommending a 15-pound terrier mix instead.
"Totally different dog, little scruffy little tiny dog compared to this big old Pitbull, but we went to them and said, what do you think? And they fell in love with him, and they adopted him," said the President of Barks of Love.
In November 2020, Nina wanted to gift a dog to her kids since she wanted to give them the same experience she had growing up with dogs. The process took a bit longer since Barks of Love didn't have any dogs to foster at the time. After three months, foster coordinator Twanya Rodarte contacted Nina to inform her that they had a German Shepard mix available to foster if she was still interested. So on February 1, Nina's family gladly took in Conrad.
After five weeks, Conrad got adopted soon after Twanya asked Nina to foster Nyla in March. Nyla was then out for a week while she went on a trial adoption with a potential adopter. During this time, Nina took in Riff and Raff, a bonded pair, until Nyla came back to their home.
From having zero dogs to having four in the span of three months, Nina noticed her kids were adapting quickly to their furry friends.
With a big smile, Nina says, "The kids became dog experts really fast. You know 'cause they went from one dog to the next. In the short time, they've experienced three different breeds".
11-year-old Kate Paavola, daughter of Nina, giggles as she explains her favorite aspect of fostering dogs, "I like being able to figure out their personality. They're just all so different, and I like everything about them."
In the future, Ashley and Paige hope to partner with local shelters to implement their foster program on a grander scale. If you have any questions on how you can get involved with the organization or how you can help foster visit barksoflove.org .