by Xavier Sanchez
Image Credits to Wikimedia Commons
---
September 20, 2019. A day that was about a year and a half ago, yet in the midst of a tragic pandemic, as well as global unrest due to systemic racism and oppression, that day feels so much farther away. It is a day my mind often revists at the moment, as I find myself considering the insignificance of my existence through the existential nightmare that is this place in time and space. A day that brings a smile to my face because it reminds me of a time when I could connect, in person, with other human beings over a shared enjoyment of something. It was a time when I did not have to face heightened anxiety about stepping into a public space. September 20, 2019 was the day I had the pleasure of experiencing Flying Lotus 3D at The Novo in Downtown LA.
Brainfeeder label founder and music production legend, Steven Ellison a.k.a. Flying Lotus, is one of my favorite artists of all time. Flying Lotus served as a major part of much of Gen Z's upbringing, as his music could often be heard on Adult Swim or on his Grand Theft Auto 5 in-game radio station, FlyLo FM. FlyLo was touring following the release of his sixth full-length LP, Flamagra, earlier in 2019. For my friends and I, this meant that we would finally get a chance to experience the fabled 3D spectacle in person after years of waiting. By the time the set was over, the wait proved to be well worth it- our worlds had changed forever.
Flying Lotus' music is a mind-bending amalgamation of hip-hop, electronic/dance, jazz, and IDM. Still, I feel as though none of those genre descriptors can truly encapsulate FlyLo's unique sound. The LA icon has collaborated with numerous high-profile artists spanning a wide breadth of music styles. Some of his most notable collaborators include Kendrick Lamar, Thom Yorke, Mac Miller, Earl Sweatshirt, Snoop Dogg, Thundercat, and MF Doom. Ellison's work explores death, grief, the mysteries of the universe, and the human experience in a way that cannot be properly expressed in words (seriously go listen to some of work while you read this; my personal favorite projects from him are Cosmogramma and You're Dead!). There is always a sense of awe I feel when listening to FlyLo, but this show, with 3D visuals done by Strangeloop (David Wexler) and Timeboy (John King), showcases that these songs are a view into the soul of an artist.
I expected a DJ set performed by a master of the musical space he exists in, but going into things I was not too sure about what the three-dimensional visuals would add to the experience. My view of 3D technology was not very positive going into that night at the Novo, as I had been let down by numerous movies that promised a life-like experience that only left me with disappointment and a headache. Yet, once I donned my 3D glasses, I was completely enveloped by the world FlyLo created, as the visuals that night completely shattered my misconceptions about 3D technology. There was an interplay between the 3D visuals and the familiar sounds of FlyLo's music reminiscent of seeing a live band taking cues from one another during a performance. The lines between reality and performance began to blur as images jumped out at the crowd and surrounded FlyLo on the stage. My eyes were glued to the performance, my body was moving to the beat, and for that hour it felt as if I was somewhere beyond this Earth. Some instances force a person to be more present in a moment and some make a person long for an escape. FlyLo 3D forced me into a deep, yet welcomed, spell of introspection, while allowing me to feel as though I, and the hundreds around me, had been transported to a space devoid of the pain and banality of this existence. That is not to say that I did not experience pain, joy, or wonder during the concert, but more to say that what I did feel seemed to be distilled down into its purest form and provided me with a greater understanding of these emotions.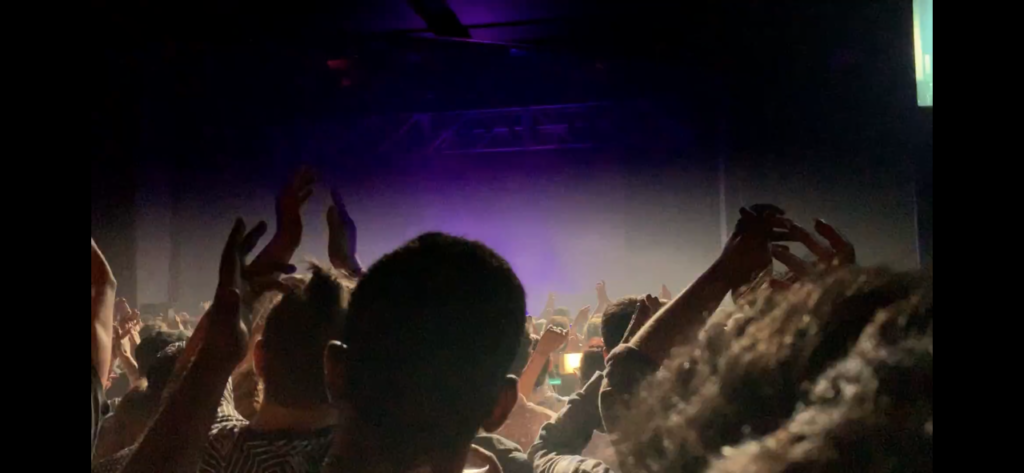 Even with the splendor of the entire night, there are a few specific moments that have etched themselves into my mind. The first of these moments is when the show opened with comedian Hannibal Buress walking onto the stage and discussing what we were about to witness. His dry wit was a perfect precursor to the infectious, funky, and psychedelic grooves we were about to be entranced by. A remix of Crank That by Soulja Boy sent the crowd into a frenzy at one point in the night, and each moment of humor was offset by something darker or more touching (this article was written before the Soulja Boy rape charges). Two of those touching instances came in the form of tributes to friends of FlyLo and music legends Ras G and the aforementioned Mac Miller, both of whom had recently passed. Their faces were projected onto the 3D screen of the venue and their lives were celebrated with sincerity and admiration in a way I have never seen done before. The stirring tributes were accompanied by surprise appearances from keyboard virtuoso Brandon Coleman and revered bassist Thundercat. The frequent collaborators jammed out and soon after the crowd's energy was unmatched when FlyLo dropped the hit "Never Catch Me". "Do The Astral Plane" was another highlight of the set as it was the perfect close to a night I felt did not have a single down moment.
As the show drew to a close, FlyLo invited people to the front of the venue to dance and let loose. Sadly, the night had to come to an end at some point, but when it was all said and done, I knew I had just experienced one of the greatest nights of my life. I left with my friends exhausted, yet somehow rejuvenated by the human ability to create beauty and embody a soul through art. The Flying Lotus 3D show is a peek into the most jovial, irreverent, and terrifying moments of the human condition. The show is a glimpse into someone else's universe that still seems familiar to the one we individually occupy. The show is how I imagine it feels like to chew 5 Gum. I felt connected to those around me like never before. My friends and I left the Novo that night with a newfound appreciation for life and the human consciousness. Nothing I have ever heard or seen compares to the FlyLo 3D experience and I have never been left longing for more in the way I was with this show. If you have the opportunity to ever experience FlyLo 3D when in-person events are a thing again, please take it. Until then, if you enjoyed delving into a pre-pandemic experience through this pandemic-engulfed world, make sure to follow @titanradio on all social media for more Way Back Recaps and Reviews of festivals and shows of yesteryear.