Image Credits to BOBA WITH LUV
Written by Danielle Batalla
---
I had heard of the name "BTS" (formally named "Bangtan Sonyeondan") when I first started college two years ago. I knew they were on the rise as they started to become a common name amongst my old high school friends. But, I thought to myself that they were just another group that would come and go, as most groups do within the K-Pop industry.
However, as the years went on, they started to become bigger; more popular than I had ever seen. They were achieving things that past K-Pop groups haven't: winning an award at the BMAs (Billboard Music Awards), being featured on American shows like Ellen and Saturday Night Live, and winning the most Daesangs (Korean for "grand prizes") in history. It was clear that they stood out amongst many, especially being one of the first artists for South Korean company Big Hit Entertainment.
I became a "fan" of BTS only a year ago, when they were promoting their "Love Yourself" series. I started buying their albums, watching their videos and following their social media accounts. I was very drawn to the message behind that era; the concept of loving yourself was something I hadn't seen in other K-pop songs. Most K-pop songs, to my understanding, usually dealt with "love" or "heartbreak." Hearing messages of self-love felt very genuine; we don't have to look to another person for self-validation. Rather, this validation comes from us. It is our self-acceptance that moves us past relationships and through life.
BTS' fanbase, known as "ARMY" show themselves to be the most dedicated fans across any industry. They are well known for their organization and loyalty to the group, and such dedication rings true: back in April of 2019, BTS' video for "Boy With Luv" broke the Youtube record for most views in 24 hours, amounting to 74.6 million views. Their most popular video, to date, is "DNA" with 890 million views. When it comes to supporting the group, the ARMY puts out all of the stops to show the world their love.
Such a love came across for me, when I attended the "BOBA WITH LUV" event back in the beginning of December at Heere Tea, just down the street from CSUF. BOBA WITH LUV is a BTS fan event dedicated to celebrating the member's birthdays. This time, the event happened in honor of BTS' members Taehyung (also known as "V") and Jin's birthdays, both whose birthdays are in December. Lailani, the creator of "BOBA WITH LUV" started the idea after attending a similar event. "BOBA WITH LUV was actually only supposed to be a one-time event," she says. "The idea started brewing in my mind over a year ago because I wanted to do one for V's birthday. I had seen cup sleeve events being thrown across Asia through Twitter and was always curious as to how they worked. After going to my first BTS cup sleeve event in March, I knew I wanted to do one myself."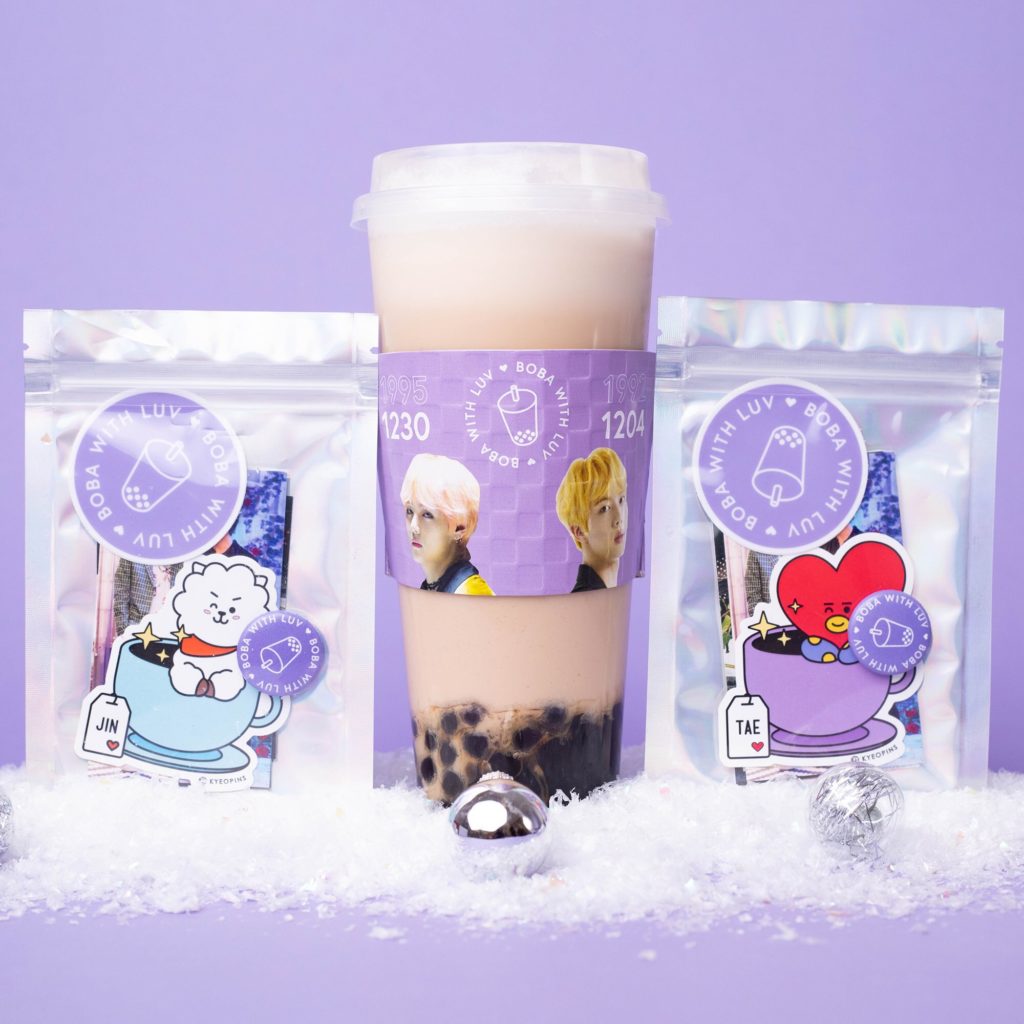 The event began at 12 PM, but ARMYs lined-up as early as the night before to ensure their place in line. Around 10 AM, there were already more than 200 ARMYs waiting to enter the boba shop. In the shop, decorations in honor of Taehyung and Jin fill the walls, in addition to small vendors and photo opportunities. But, that's not all: ARMYs have also taken to name drinks in honor of the two members, with names such as "Jin Hit," "Singulari-tea," and "Worldwide Handsome." Although such an event has gained massive success with ARMYs near and far, planning the event hasn't been easy. "This whole experience has been a learning curve for me," Lailani says. "I had to learn the hard way that I couldn't do it all by myself for the second event. I fortunately now have a solid team of 5 other girls who help with the planning of these events. These ladies have their own set of skills and strengths that are critical in becoming an effective team."
It was evident that their work paid off and was appreciated; ARMYs constantly thank the team on Twitter for their patience and efforts to create events like these. While on the outside fans may be met with animosity for liking a Korean boy band, BOBA WITH LUV serves as a "safe space" for ARMYs to share their love with BTS while making life-long friends. Lailani and her team share the same sentiment: "ARMY is the reason that makes the BOBA WITH LUV experience the way it is," she says. "They come to our events with their positive energy, handmade freebies, and courage in trying to make new friends at the end of the day. If BOBA WITH LUV continues to be a safe haven for SoCal ARMY, then we, as a team, will continue to provide that for them. BOBA WITH LUV, in general, has become its own community within the ARMY fanbase."
For more information on BOBA WITH LUV, follow them on Twitter and Instagram @bobawithluv or email them at bobawithluv@gmail.com.