By Brandon Walkley
Like many others during quarantine, I found myself listening to as many new albums and artists as possible to try to pass the time and hopefully find a new favorite. Fortunately enough for me, one stuck – the hyperpop sensation and former main pop girl known as Charli XCX. Her self-produced quarantine album how i'm feeling now was gaining a lot of attention everywhere, and after giving it an honest listen, I fell in love with her. She reached #3 on my Spotify Wrapped last year, and her songs "Unlock It" and "claws" were in my Top 5 most listened to songs. You could imagine when she announced her new album Crash and her upcoming tour this past November, I knew what I had to do.
This past Sunday, my friends and I arrived at the Greek Theater around 5:15pm, almost an hour and a half before the doors were supposed to open at 6:30. We heard that there was going to be signed vinyl of some of her previous albums for only $50, so we leaped at the opportunity to snag them! The doors to the seating area finally opened at 7, and after another hour, Baby Tate and A.G. Cook came on as Charli's openers. I love A.G. Cook's frequent collaborations with Charli as her producer, but I couldn't get past how identical he looked to John Lennon and it kept creeping me out the whole night. Finally, at around 9:45, Charli came out strong, opening with her new song, Lightning.
Charli played the entire Crash album front to back, scattering some of her other well-known songs and singles throughout the setlist. Fortunately, she played her song Gone, which is my personal favorite song of hers. Unfortunately, she did not bring out Christine and the Queens to perform it with her; however, she did bring out several other guests to surprise her LA audience! For her hit single 1999, she brought out Troye Sivan, which caused the entire crowd to erupt. During her encore, she played her viral TikTok song Unlock It, bringing out Kim Petras to perform her verse. The only instance louder than these two occasions the whole night was when Charli came out for the encore and performed her most well-known song, Vroom Vroom. I'd like to say that the crowd lost their collective minds when this came on. Even in an outdoor theater venue with a small general admission pit, Charli knew how to get the crowd going!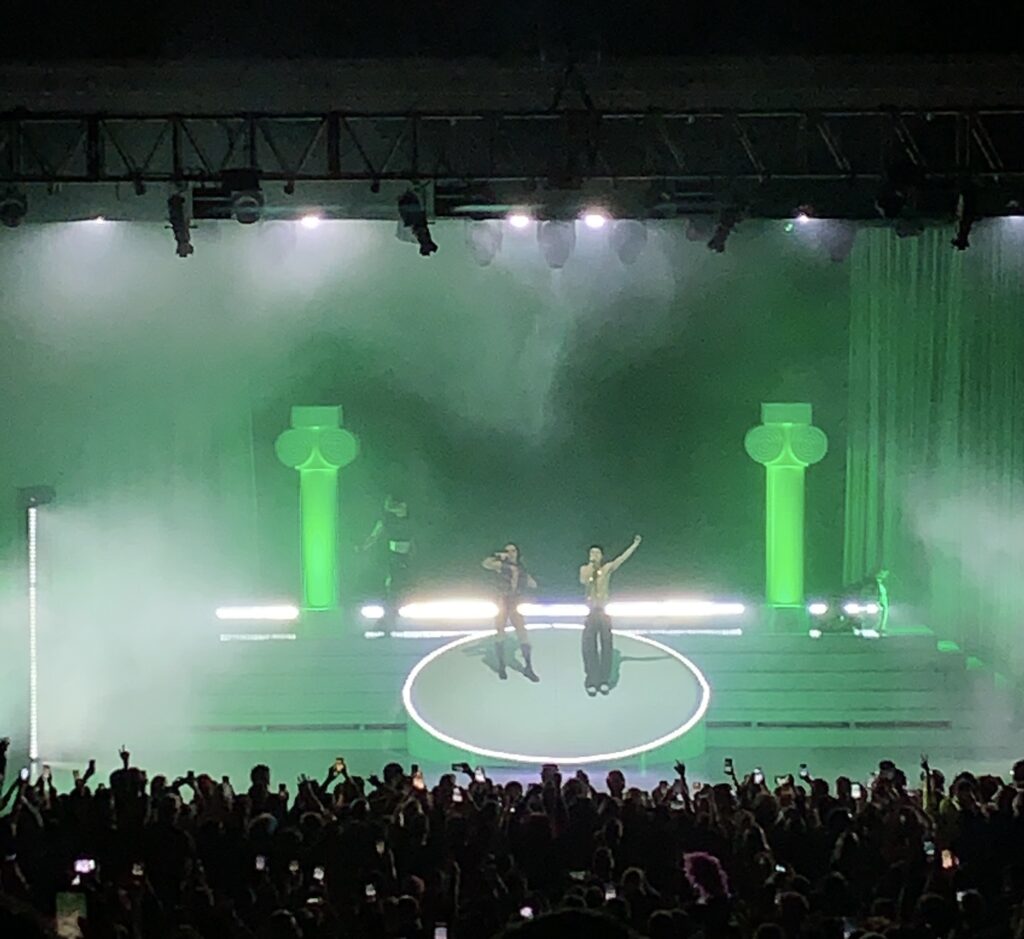 I went into this concert knowing how much I was going to love it, and yet I had more fun that I could have ever imagined. Charli is a performer, and she knows how to put on a show! Stream Crash, it'll change your life! Best album of the year so far!