Written by Julian Orozco
---
The trials and tribulations we face in life often are the things that help us grow the most. All the problems we face often shape the kind of people we are and change the way we treat others. They define who we are.
There comes a point in life when you want to stop doing things just to please others and start doing things for yourself. You develop a "love me or leave me" attitude.
You show the world who you really are and you stop caring what people think of you because you're staying true to yourself, which is one of the most important things you can do in life.
On February 21st, 2020, the growing Inland Empire collective, Thzbnz Thzbnz (pronounced "These bones, Thousand bands" or just "These Bones" for short) released their debut album, "FACE THE DØG."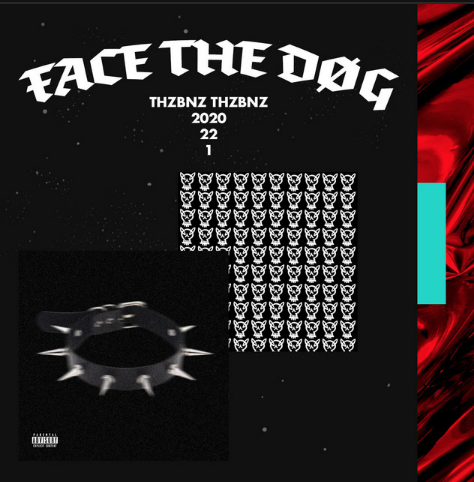 The 14-track LP well represents the "love me or leave me" attitude I mentioned earlier. Although most of the group members have experience in music or production, the album marks the first time each artist contributes vocals to a project.
Literally and figuratively, they made sure they all had their voices heard. They truly wanted people to hear who they were. They unapologetically introduced themselves to the world by blending genres and bending barriers. In an age of culture vultures and trends, their crisply produced, contemporary hip hop was refreshing to hear.
I got the chance to speak with three of their members, Good –friend- JOE!, Levi Parker, and j passion, about their experimental style, and what their album meant to them.
19-year-old, Good -friend- JOE!, recorded, produced, mixed and mastered every song on the album and even included vocals in some tracks as well. Although "FACE THE DØG" was a collaboration of many ideas and experiences, this project was definitely his brainchild.
"I had worked with different artists in the past. Little by little, we were just trying to put out tracks here and there. But something about it…the transitions in my life just brought forth this family. Little by little I started to see who I really trusted. With that, I felt like it was just time to make my first project," said Joe.
Parker, who has been playing drums for 10 years, has been in bands since high school and brought his background of rock, screamo, and heavy metal to the album on "Flip" and "Potomac." He recalled how the group got their name.
"When we first started off, me and Joe were just making beats. We were going to Citrus College together and the whole plan was for this group to be a bunch of creatives that just make shit (art) all the time. So we didn't really care about the name, just about the idea and how it was executed. We kinda just pulled the name out of our asses to make an email for our Soundcloud. And we added the Thousand Bands because one guy heard about us and thought that's how you pronounced it," said Parker.
"FACE THE DØG" was j passion's first real try at making music. He had played guitar, but never really got around to putting out his own music. He credits his parents' taste in music for his musical style today.
Despite their status as newcomers, the group put together a professional and very clean sounding record. The group says the natural, healthy competition they had in the studio was what drove them to focus on quality over quantity when producing the album. This environment speaks to Joe's background as a world champion professional boxer who turned pro at 15.
When asked what "FACE THE DØG" meant, the group responded:
"That's the mantra!" said j passion.
"Just like THZBNZ, it grew meaning after we took it for our own. A friend of ours, Jacob, was working at FedEx and they told him that if there's ever a dog, you don't turn your back. You don't run away, 'cause then you're liable. You gotta face the dog. If you get bit, you get bit. But you gotta do what you gotta do," said Parker. Which really encapsulates their message behind this album.
"By listening to the album over and over. I just realized how much I hadn't known about myself and how much I didn't know about music while I was creating it. I really valued just the pure joy of just starting a track. There were a lot of realizations in my life at the time and just the mantra of "Face the Dog" felt right. It was funny how casually Jacob said it. Especially with everything he's been through and with everything we've been through together. I just had to face whatever problems were in front of me. It's really about self-respect and self-awareness. That's really what face the dog means," said Joe.
The album also features Thompson Kemp on "OFF," Andrew Taylor in "19sixtysix," "Flip" and 9bag, and Dom on "Portlynd".
The group credits Frank Ocean's "Blonde," Travis Scott's "Rodeo," work from Slauson Malone, screamo band, Eras, and Kanye West as the biggest musical influences on the album.
Whether if it just happened by chance or if it was meant to be, the group says putting out the project felt right. Despite recording in a garage with no internet, the group wants to continue to focus on growing creatively and on only accepting excellence when it comes to their rhythms and rhymes.
The young band of homies is slated to release their new album, "Carnival" in the next couple of months.
Make sure to follow them on Instagram @thzbnz and stream "FACE THE DØG" on Spotify, Soundcloud and Apple Music.