Article By Sarah Rendon
A fun fact about me is that Tyler the Creator was my first concert ever. I first saw him at The Shrine in April 2018. That show was a crazy first concert. His openers were Taco DJ'ing and Rex Orange County. Before entering the building, they had us waiting to open the doors after security. When they opened the doors to the venue, everyone started running! People were pushing and shoving, which led to my friend and I getting stuck at a door. It was so scary. Nevertheless, I loved the concert, a fantastic first concert, and it started my love for attending shows.
After that, I attended several more concerts, but I never saw Tyler again until this year's Call Me If You Get Lost tour on March 31. This show was at the Staples Center (technically Crypto.com Center ew). It was really exciting seeing Mr. The Creator in such a big area compared to the Shrine; man has made it. I went with my best friend Justin, who has also been a fan of Tyler for several years. We both started listening to him around his "Wolf" album era. We left our homes around 5:30 since the concert started at 7. He had three openers, Teezo Touchdown, Vince Staples, and Kali Uchis. We were hoping to see all 3 performers. 
When we arrived at Staples, there were so many really long lines wrapping around all over the place. Instead of asking how to enter, Justin and I joined a line since they were so long. The line was going from the Staples to the sidewalk and around a corner. We waited for around 15 minutes, and as we were getting closer to the front, we saw people starting to leave the line, and it turned out the line was going nowhere. So then we asked a security guard where the line was to enter. They pointed to another longer line that was going around 2 corners. We continued to wait, and the same thing happened; it was another random line. It was very disorganized and confusing until a lady came out and started yelling at people from sections 100-300 where to go. Finally, we found security at around 7pm, and while in line, we saw Jason Nash with his kids.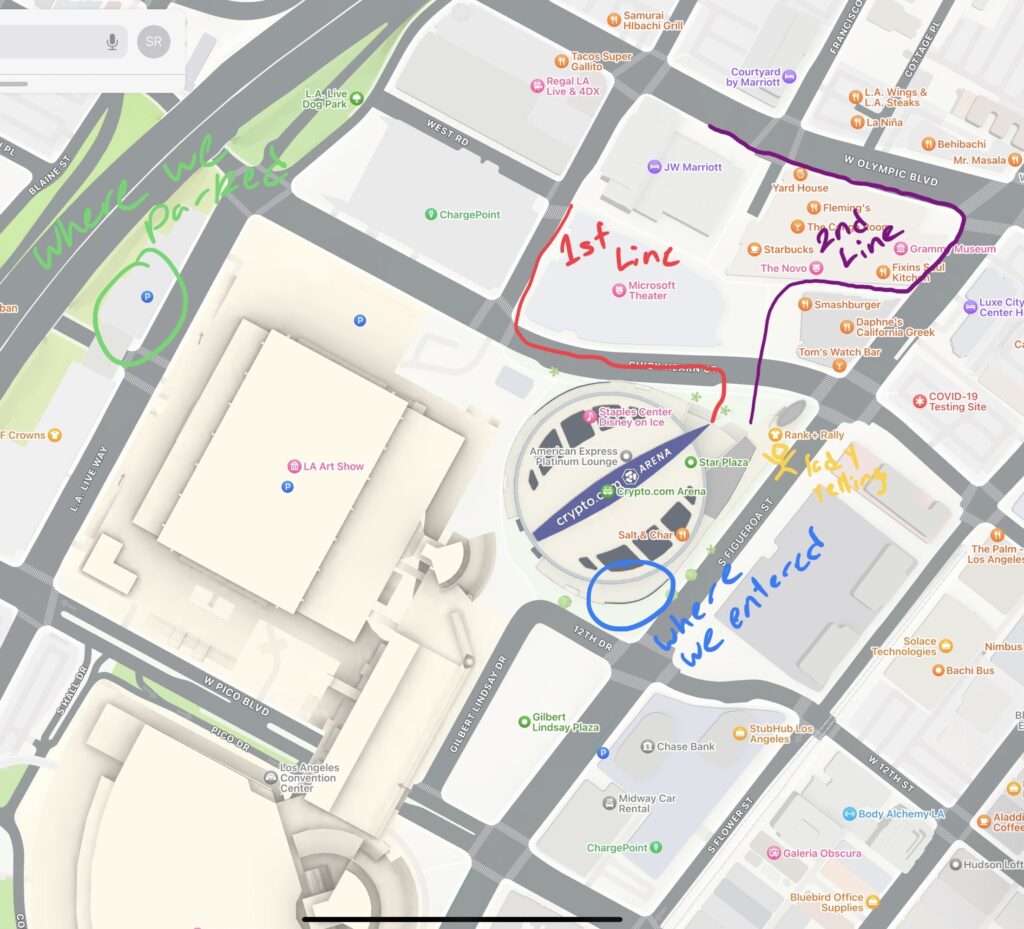 When we entered the building, we heard Teezo Touchdown was already performing. While we were looking for our seats, his set was finished. We waited for Vince Staples, and he arrived on stage at 7:30pm. He performed on a little stage closer to our seats. I don't listen to Vince Staples. I only know the song "Norf Norf." His set was decent; maybe if I knew more of his songs, I would have enjoyed it more. When looking around in the crowd, many people were acting as if he wasn't performing. People who watched the live stream said that the crowd was silent, and most people were sitting down. I felt terrible for Vince since the crowd was not being respectful towards him. I would rate his set a 6/10.
Next to come on stage was Kali Uchis. More people also arrived at their seats, and the arena began to fill up. My friend and I thought Kali Uchis would also come on the stage we were closest to, like Vince Staples. So when the lights went out, we were looking at the smaller stage, but then a curtain dropped at the main stage, and there she was. It was an unforgettable moment since we did not expect it at all. I've been listening to Kali since around 2016, and I've seen her perform twice before at Tropicalia. It's always a pleasure to see Kali perform.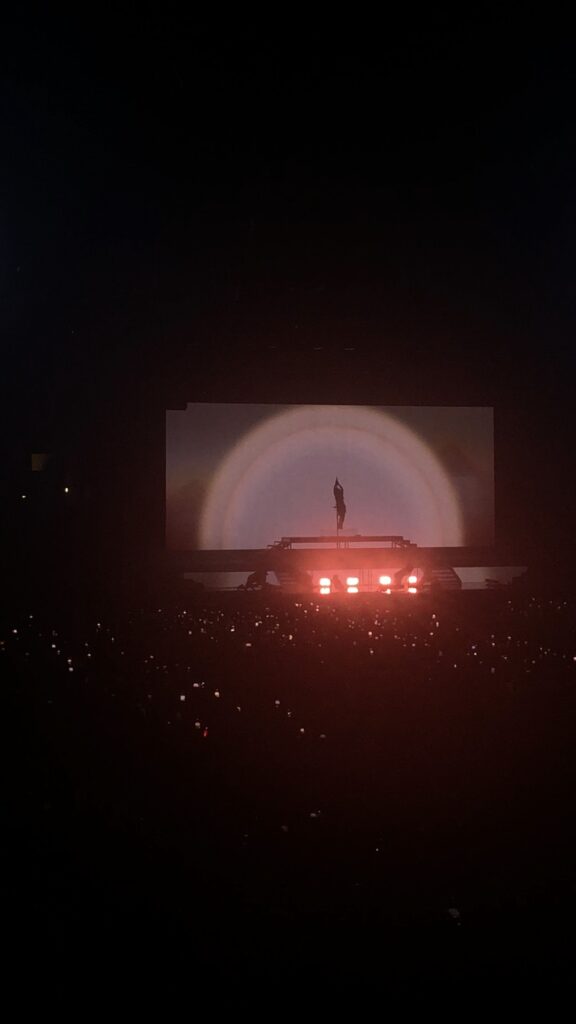 Kali had background dancers, and they were doing contemporary dances to her songs, something she had never done before. She started with some of her classic songs like "Dead to Me," "10%," and "Loner." She then moved on to some newer songs she released in her Sin Miedo album. She also sang a song she released with her boyfriend Don Toliver, "Drugs N Hella Melodies," where Don Toliver joined her on stage. During her concert, the crowd was going crazy and was way louder and dancing more than they were with Vince Staples. Towards the end, she finishes with three of her most popular songs "I want war (BUT I NEED PEACE)," "After the Storm," and "telepatia." For "After the Storm," since it is a song featuring Tyler the Creator, I was waiting for him to come out or at least rap outside the stage, but she actually skipped that part of the song, which was very disappointing. In her past performances, she never cut that part. Overall, Kali Uchis was immaculate as always, so I'll rate her performance an 8/10.
Next up is the headliner himself, Tyler the Creator. Tyler is known for his beautiful big sets, so setting up his stage took them a while. His show started at around 10. It began with a big screen showing a video traveling through trees, where Tyler slowly started coming up on stage in his Rolls Royce performing "SIR BAUDELAIRE." He continued to perform songs off his album Call Me If You Get Lost, where he would walk around the house on stage and dance around. He then goes on a boat while performing "WUSYANAME" and moves to the next smaller stage. He then performs songs from his album Flower Boy. At this point, Tyler began to look a little off. I obviously do not know him personally, but he did look a little disappointed and was not as into his performance. To me, it looked like he was just trying to do his job rather than enjoying his performance. This is just what it looked like to me, and I am making an assumption. After Flower Boy, he performs snippets of older classics of his, "IFHY," "She," "SMUCKERS," "Yonkers," "Bimmer," and of course "Tamale." He then goes back on his boat and performs "SWEET/I THOUGHT YOU WANTED TO DANCE." Once he is back on stage, he performs "Who Dat Boy" and moves onto his album Igor. He introduced one of his Igor songs as his favorite song he had ever made and asked the crowd to go crazy with him, and that song was "New Magic Wand." My friend and I, the whole concert, were going insane and screaming as loud as we could. So when he made that intro, we got even crazier since it is one of our favorite songs as well. He concludes his performance with "RUNITUP" off the Call Me if You Get Lost album. I began to get emotional because I love the message of that song, and I knew the show was ending.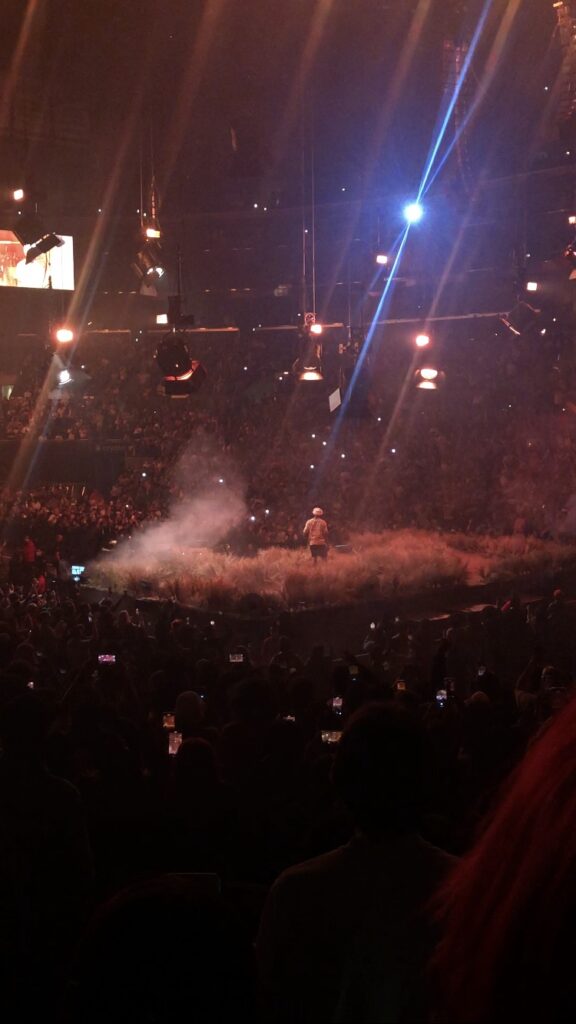 Overall, Tyler the Creator did outstanding. He is one of the best performers I have ever seen and never fails to entertain his audience. It is all beautiful not only with his eccentric, fun dance moves but with his whole set. He is a man that pays attention to the details and knows how to make a concert more than a concert. His work is an art and a whole performance. I would recommend anyone to attend a Tyler show; it is always a good time. I would rate his show a 10/10. Mr. The Creator never fails. The only disappointing thing about the show is that he later changes his Twitter bio to "that LA show was poo." I think the main reason he said that was because the crowd was lame. I started noticing this with many shows I've been attending recently; LA concerts are dying. The crowds are there for the wrong reasons rather than appreciating the music and performance; it feels like they are there to say they were there and post about it on TikTok. It has been a while since I have gone to a concert where the crowd was enjoying the moment. Still, hopefully, the crowd shows him love, by dancing and singing next time Tyler the Creator performs in LA, rather than trying to get the best angles for their videos. LA cannot be "poo" next year!
Cover Image via Getty/Barry Brecheisen