Written by Cristina Herrera
---
Baltimore based rock band All Time Low released their 8th studio album Wake Up, Sunshine on April 3, 2020 via Fueled By Ramen. With a total of 15 tracks, the band takes us on a musical journey through feeling love, loss, pain and the bittersweet emotions that come with growing up and finding yourself.
This band is very special to me. I first learned about them when I was getting ready to graduate from high school. When I started my freshman year at CSUF, the band went on a fall tour in support of their album Future Hearts, which I listened to heavily. That concert was insane and, in that moment, I had never felt so alive and so loved. That night lit the spark that fueled my passion for music over the last five years. This band and their music was there at a point in my life where I was struggling with adjusting to being away from home, on my own for the first time. Since then, their music has provided the soundtrack to my college experience, encouraging and inspiring me to do what I love and love myself. Wake Up, Sunshine is quite literally the ray of sunshine in my life right now and I'm thankful to All Time Low for sharing it.
My Favorite Tracks (in order of tracklisting)
1.Monsters ft. blackbear
2. Pretty Venom (Interlude)
3. Favorite Place ft The Band CAMINO
4. January Gloom (Seasons, Pt. 1)
5. Glitter & Crimson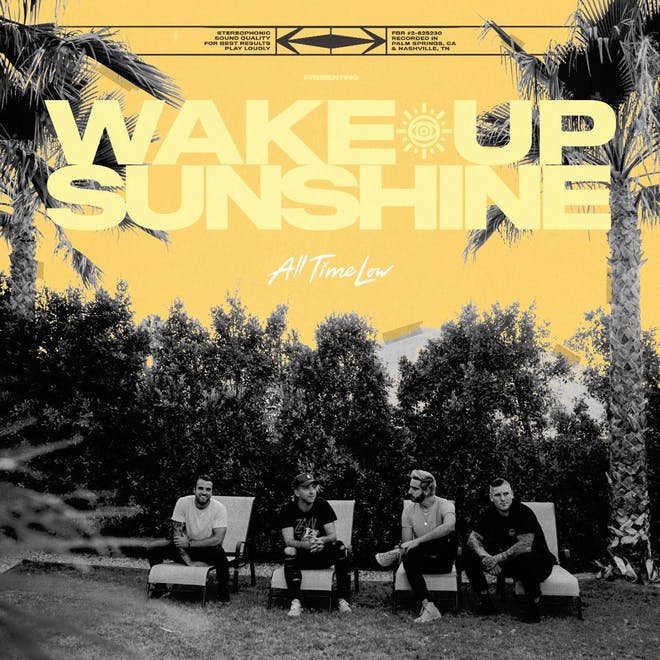 Track list:
Some Kind of Disaster – This track is the perfect way to get things started, reminding me why I love this band. It also serves as an anthem, with the band calling their fans back for another musical journey.
Favorite lyric: "I'm a liar, I'm a cynic / I'm a sinner, I'm a saint / I'm a loser, I'm a critic / I'm the ghost of my mistakes / And it's all my fault that I'm still the one you want / So what are you after? / Some kind of disaster"
Sleeping In – The references to other musical pieces make this song even more enjoyable. The accompanying music video is also adorable so I definitely recommend watching it.
Favorite lyric: "Everyday's a holiday / We stay hot when it's cold outside, y'know / Haven't left your place in days / Postmates and dirty laundry"
Getaway Green – This song was performed almost a year before the album was released so finally having the chance to hear it was awesome. It's the perfect song to drive to, with the windows down and the volume turned up.
Favorite lyric: "Weekend wonderful a dizzy dream / A colorful lie, we made a hell of a team"
Melancholy Kaleidoscope – This song shares mixed emotions covered with a happy, upbeat sound. The band dubbed this one as their mosh pit song so I imagine the crowd in the pit will definitely deliver.
Favorite lyric: "Can't be one hundred if you're only giving ninety-five"
Trouble Is – This one covers how difficult it can be to forget people who have been a part of your life. Sometimes it's because they've become a part of you despite their absence.
Favorite lyric: "I can see a new light / Burnin' up the sky, fillin' up the whole damn room / Wanna look away but / Even when I try there's a little that gets through"
Wake Up, Sunshine – This track serves as a feel-good anthem that shines a light on the future ahead, encouraging people to stay true to themselves and their dreams.
Favorite lyric: "Everyone wants to be somebody / I just want you to see how good you are / You don't have to lean on the crutch of a daydream / To see that you shine like a star"
Monsters ft. blackbear – One of their coolest collaborations yet, this track features blackbear, whose verse adds a nice edge to the song.
Favorite lyric: "I'm addicted to the way you hurt, the way you contradict me / I swear everything look worse at night, I think I'm overthinking"
Pretty Venom (Interlude) – I've always loved interludes. I find it fascinating how they assist with the progression of an album. Most of the ones I've heard are solely instrumental, but I was happy that this one incorporated vocals. It provided a nice transition into the second half of the album.
Favorite lyric: "And it's so bad, feelin' this sad / Runnin', runnin' circles down a one-way track 'cause / You know what you do"
Favorite Place ft The Band CAMINO – This was the first song to make me cry. The lyrics to this track resonated with me on a deeper level and I found myself tearing up almost instantly. I'm also a fan of The Band CAMINO so their feature on this is perfect.
Favorite lyric: "And I know you don't belong (Know you don't belong) / Know you don't belong to anyone / No, you can't be tamed, love"
Safe – As stated by a fan during the band's live album listening party on Twitch, this song feels like a hug, reassuring the listener that they are where they are meant to be.
Favorite lyric: "Stop wasting all your time on waiting up for better things / If you feel it, then it's all you have to say"
January Gloom (Seasons, Pt. 1) – Alex talks about his recent experiences with seasonal depression and finding ways to overcome it. It opens up the opportunity to have a conversation about mental health and reduce the stigma surrounding it.
Favorite lyric: "All I want, all I need for now is you to save me"
Clumsy – This song contains elements that speak to the band's legacy. Some of what this band is known for is evident in this particular track, touching on their musical roots and how they started out.
Favorite lyric: "Droppin' bombs on future's past / Nothing left for us, shadows dancin' in the ash"
Glitter & Crimson – This one also had me in tears, Alex's voice is so intense and raw, I imagined being in the pit at an ATL show. During this song, I envision people in the crowd would put their lighters and flashlights up to light up the room. It would be a beautiful moment.
Favorite lyric: "No compromise and no second best / There's no stopping now, this weight on my chest / I won't settle down, won't settle for less"
Summer Daze (Seasons, Pt. 2) – This song has that perfect summer vibe. It will be especially fun to hear live at Sad Summer Fest, which the band is set to headline this summer.
Favorite lyric: "Serendipity and summer showers / We soak it up like flowers / Growing through the concrete"
Basement Noise – For the band and their fans, this one calls for reflection on where they started and the experiences fans have had with their music over the years. These guys started out together while they were in high school, making noise in the basement. Since then, they have come so far, allowing us to grow up with them and experience this wild ride along with them.
Favorite lyric: "They're just stupid boys making basement noise / In the basement, noise in the basement"
Listen to Wake Up, Sunshine here! Check the band out @alltimelow on social media!
Tune in to The Girl with the Rock Show on Mondays & Thursdays at 4pm!