by David Olivares
I first heard Oklou's debut mixtape, 'Galore', at the tail end of 2020, shortly after coming home from a three-day trek of a forced evacuation from the Silverado Wildfires. It is sooooo good, and so ridiculously potent. Even though it's not a full-fledged album, it feels complete and fleshed out – its worldbuilding and soundscapes evoke images of a dreamy, mountainous nature, brooding vulnerability, and beauty galore. It was, without a doubt, the exact type of thing I needed, especially this late into the pandemic. On the surface level, it can be seen as outwardly romantic, yet at its core, it's a deeply wistful tale of longing for escapism – being anywhere but here. And that spoke more levels to me than anything else that year. It's no surprise to myself that 'galore' was my favorite LP of 2020 – even though I found out about it over December.

Oklou traverses through pop music with lovely electronic music sensibilities and a hint of classical, orchestral subtleties (courtesy or her own classical music training). 'Galore' contains a myriad of influences – lowkey reggaeton drums permeate 'god's chariots', interlude track
'asturias' is full-on trip-hop, and unabashed hip-hop/trap forms the instrumental center of
'unearth me'. Its inspirations are well-rounded and run through various threads, yet it is confidently centered in its vision, its voice, and its emotional weight.
I was ecstatic to find out over the summer that Oklou was performing in LA on November 14th. I bought the tickets more than three months in advance. I got to the venue around 6:30 PM when the queue for entry was pretty much empty. I was that hyped for it.
The concert started off with a DJ set from Casey MQ, the primary collaborator and co-producer of 'Galore'. The set started off with ambient works / piano pieces from himself as well as a bunch of familiar sounding tracks – Oklou's cover of Casey's 'What About Us', Cedric Madden's 'Saved', as well as a Kate Bush song. The highlight of Casey's set was shshunj's incredibly vibezy dancehall remix of 'When the Night Falls' from the video game NiGHTS: Journey of Dreams. I had to ask for an ID on his Insta to find out about it.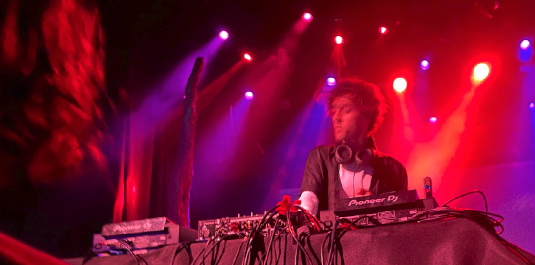 There was another half-hour break after Casey MQ's DJ set, followed by Oklou coming up on stage at around 9:10, to rapturous applause. She performed songs mostly from 'Galore', along with a few loose singles, including 'entertnmnt', her cover of A.G. Cook's 'Being Harsh', and
'Friendless'.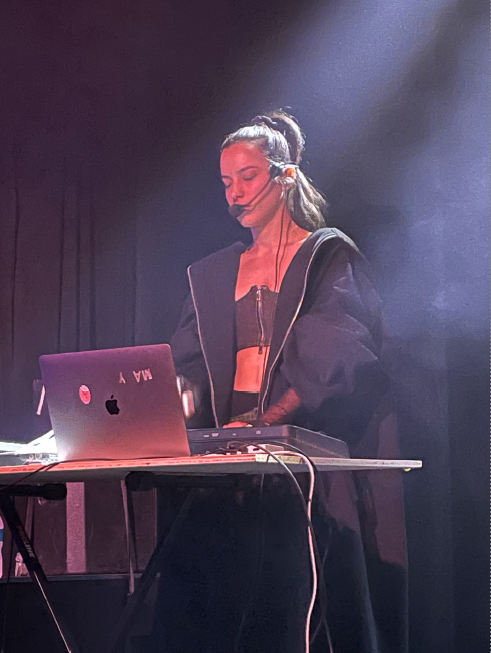 HIGHLIGHTS:
'unearth me' live is such a treat. Detente, Oklou's guitarist, adds so much to the live versions that makes them blossom to perfection. I'd love to hear a full studio version of the live songs, as unlikely as it is.
'god's chariots' provoked the biggest reactions from the crowd. The moment the song was cued up, I got pushed from behind by a couple voracious fans who were screaming off the top of their lungs, making their way to the front of the stage. That was the only time the concert got rough; thankfully, it wasn't malicious or anything.
Did I mention Oklou slayed her choreography for every single song??? Wow. Especially on
'entertnmnt'. Wish I had some videos of that song…
Casey MQ went back on stage to perform the duet 'girl on my throne', live for the first time ever. It got the whole audience moving.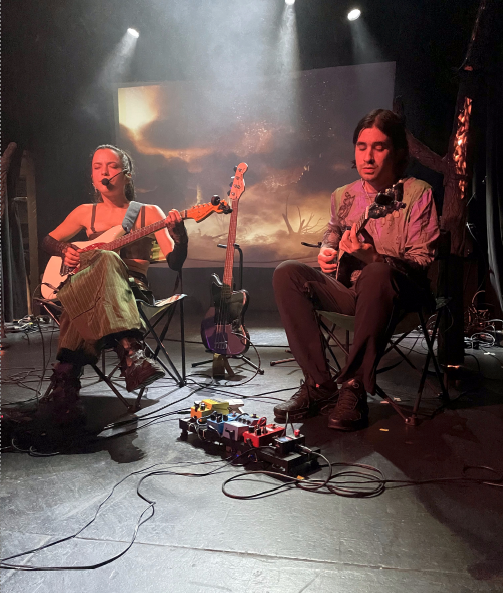 What made the concert such a treat were the subtle differences of the live songs – There's an extra verse in 'fall', 'SGSY' shifted from lowkey dance-pop hit to a mellowed, acoustic version, and 'another night' changed from an 80s-inspired stunner to a lovely duet between Detente and Oklou's bass guitar playing. Set closer 'Friendless' was something else – Detente's shredding guitar work made the song feel more like a rock-tinged R&B track. Of course, as a super devoted fan of Oklou, that's easy for me to say.

As the first concert I went to since lockdown started (and admittedly, my second ever concert experience), it was everything I hoped for – 100% amazing beyond belief, mind-blowing, and it left me starstruck. Shoutouts to the college students I made friends with that night. If Oklou does indeed move to LA and announces another concert, I hope to see you all there again.