Written by Jon Buzdar
---
The Flaming Lips have been making music since the 1980s and have always been a prominent voice in the indie rock and alternative music scenes. There newest album American Head was recorded in Oklahoma City, Oklahoma. This is important because this is also where the band had formed back in 1983 and the hometown of lead singer and founder Wayne Michael Coyne. The 16th album from the band is based on the emotions and experiences that Coyne went through living in Oklahoma City.
A 13 track journey that reads like a monologue straight from the mouth of young Wayne Coyne, the album does a stellar job of planting you in a different almost otherworldly dimension. The 7 member band utilizes all the instrumental expertise at their disposal and don't shy away from using multi-layered tracks throughout the whole production. I felt as if I was traveling through space and watching Coyne's life unfold before my eyes. A true modern-day concept album.
Wayne Coyne puts every bit of his childhood and youthful innocents into each song but presents in a way that will either make you happy with nostalgia or depressed to your core. I think for me the album tugs on all the proper emotional strings and takes you down a different path in your own life. Some songs remind me of my brother, my mother, my first girlfriend and most remind me of my home town and growing up confused and insecure. This album deserves to be the soundtrack for innocents lost and any coming of age film produced in the next years. A true soundtrack for anyone who has grown up in America.
The main songs that I would highly recommend you listen to include, Flowers of Neptune 6, Mother I've Taken LSD, and You n Me Sellin' Weed. Each track is a different journey presented in a very different structure and shows the transitions of the album in the best way. Flowers of Neptune 6, is a very low tempo song that plays like an album spinning in the bedroom of a young distraught teen reflecting on where all the time had gone.
Mother I've Taken LSD is maybe a song that by name seems like a joke but it is a very serious and honest interruption of one's experience with psychedelics. The song shifts between different angles of happiness, sadness, and apathy.
The track You and Me Sellin' Weed is the happiest and optimistic song on the album. Its beautiful melodies and accompaniment of instrumental purity with guitar riffs and solid drum beats. My favorite track on the album and one that you should play with the windows down and the speakers up as you drive down the boulevard of your childhood neighborhoods holding the hands of a lover.
Overall This album is a very timely piece of excellent work that holds its own as an album that does exactly what it set out to do. Make you reflect.
---
Rating: (Out of 5)
4.5
---
Track list:
"Will You Return / When You Come Down"
"Watching the Lightbugs Glow"
"Flowers of Neptune 6"
"Dinosaurs on the Mountain"
"At the Movies on Quaaludes"
"Mother I've Taken LSD"
"Brother Eye"
"You n Me Sellin' Weed"
"Mother Please Don't Be Sad"
"When We Die When We're High"
"Assassins of Youth"
"God and the Policeman" (featuring Kacey Musgraves)
"My Religion Is You"
Notable Tracks (in order of tracklisting)
3. Flowers of Neptune 6
6. Mother I've Taken LSD
8. You and Me Sellin' Weed
---
Watch The Video for "God and the Policeman" (featuring Kacey Musgraves)
---
Preview Now
---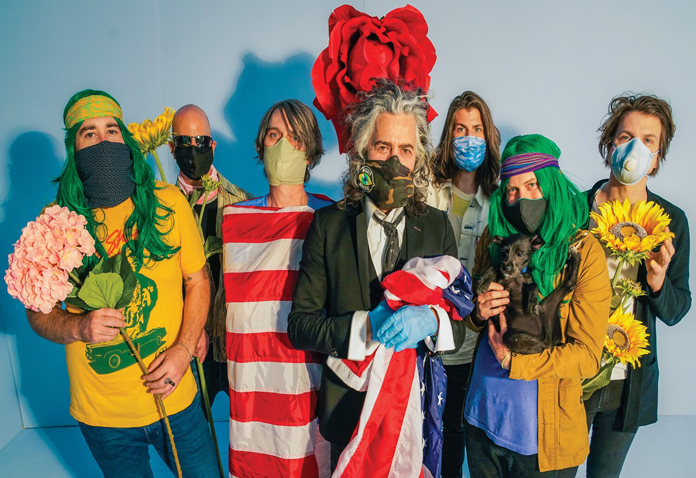 Photo Credit: George Salisbury
Listen to American Head, here! Check out @WayneCoyne on social media!