by Douglas de Wet
It's been an arduous journey! You survived virtual classes, a pandemic, suffered through isolation, an insane presidential race, an insurrection and haven't enjoyed "normal" merrymaking for over a year. If this was your first semester, or you're a graduate, you have grounds to celebrate. It's time to see friends face to face and share some laughs.
Whether your special sauce is beer in a plastic cup, wine in a Riedel glass, lemonade or iced tea in a Mason jar, it doesn't matter. OC's beautiful outdoor patios are just the place to quench your thirst, and they were made to savor long summer days. Here are five great patios for your end of semester, summer revelry needs.
Cheers, Titans! It's summertime.
Modern Times Leisuretown, Anaheim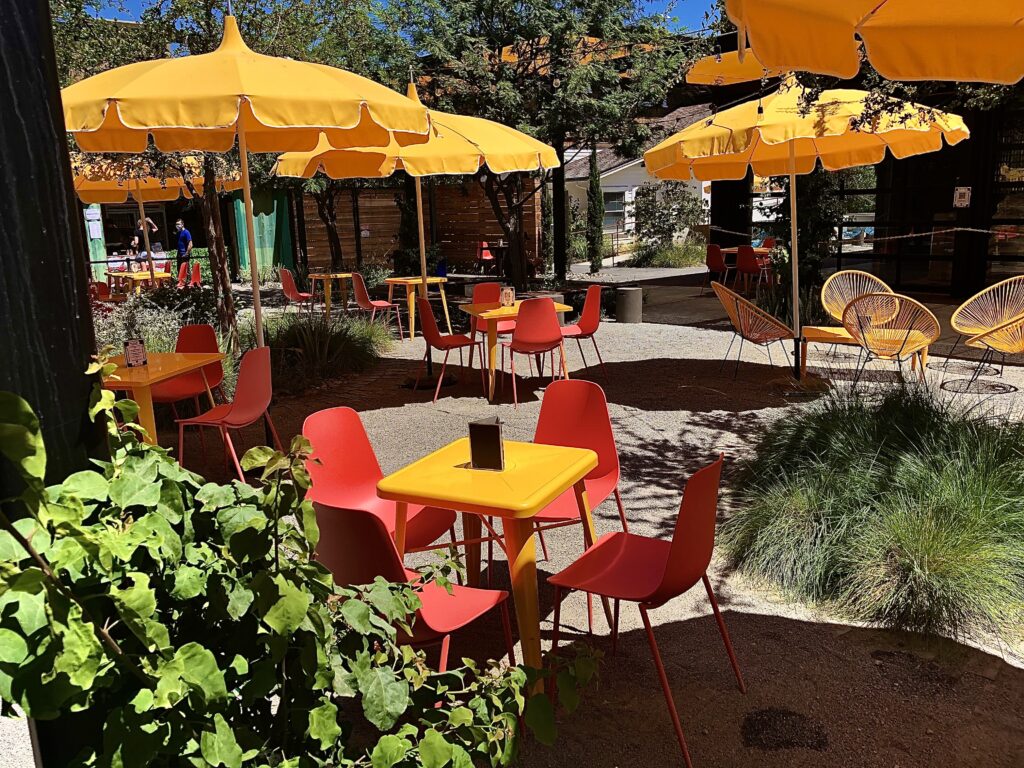 For beer-enhanced, outdoor pleasure, Modern Times Leisuretown supplies one of the most attractive, A+ patio atmospheres in OC. Here, you'll swim in groovy, outdoor-patio-paradise vibes. And some of you may actually swim—in the pool! Yes. Leisuretown has a pool!
Opened summer of 2020, in the Anaheim Packing House District, Leisuretown is about 6 miles southwest from CSUF. Here you'll enjoy an intoxicating mix of architectural styles, plant-life, adult beverages, and plant-based food.
If you're lucky, you might score a rocking chair on the shaded, wrap-around porch of the craftsman home at the main entrance. Perhaps you'd prefer the bright, modern seats nestled among shade trees, aloes and colorful bougainvillea on the main patio courtyard. High-top seating and even a daybed are tucked inside the two-story shipping container structures at the back of the property. There's poolside seating too, but as of writing, the pool had yet to open due to pandemic restrictions. By the time you read this, indoor seating in the main brewery building and craftsman house may also be open.
Thirsty? Beer leads the way. Available in 5, 8 and 16 ounce pours, Modern Times' wide variety beers are arranged on the menu by flavor profile. From crisp lager to hoppy ale, to fruity and sour gose, or nutty, malty stout, Leisuretown has you covered. If it's warm out, cold, refreshing lager beats the heat. On our last visit, lagers weren't on tap, but three were available from a can.
Beer skeptics also have plenty to choose from: interesting wines, ciders, hard seltzers and non-alcoholic beverages. For my next visit, I'm eyeing their Blanco Vermouth Spritz. A mix of vermouth, bubbly and orange bitters over ice, it sounds like just the tipple for a sunset celebration.
While the atmosphere and beverages are tremendous, the plant-based food items we've shared were just okay. Kennebec potato fries ($4 half or $7 full) are a tasty, reliable choice. We enjoyed the Classic Munchwrap ($11) but found the Double Deluxe burger ($13) unappetizing.
All ages are welcome. Payments were cashless. You'll need a credit or debit card upon entry to open a tab. Menus are accessed through table-top QR codes. Orders are placed at one of several bar/counter stations. Leisuretown has its own parking lot, and there's ample free street parking.
The heart of the Anaheim Packing District and its numerous food and beverage options are a block north.
Modern Times Leisuretown 549 South Anaheim Blvd.
Anaheim, CA 92805
(714) 874-4439
Ballast Point Downtown Disney District
Couldn't score a ticket to Disneyland? No worries. You can still soak in some Disney vibes on Ballast Point Anaheim's expansive second story patio. Overlooking the Downtown Disney District, this is a fine spot to ring in the start of summer and put a little Supercalifragilisticexpialidocious in your step.
Available in 4, 8 and 16 ounce pours, Ballast Point has a beer for every palate. On a warm day, the crisp Longfin lager hits the spot. At 4.5% ABV, it won't knock you out. If you're a hophead, try a Sculpin IPA. I like their grapefruit version. Its hoppy bitterness is complimented and offset by a juicy squeeze of grapefruit. An assortment of wines, ciders, kombuchas, hard seltzers and soft drinks are also available.
The location, beer and atmosphere are the main draw, but their food is solid. Vegan options include enticing Impossible lettuce cups ($17) and hearty Soyrizo and roasted cauliflower tacos ($14). Fries ($9) are crisp, well-seasoned and generously portioned. Our dining companion said the ahi poke with macadamia nuts and wonton chips ($18) was yummy.
Transactions are contactless. Scan the tabletop QR code with your phone to access menus, order and pay. Everyone at the table is welcome to order and pay separately. As with anything on Disney property, you pay a bit more to kick it here.
Online reservations were available through the OpenTable app or Ballast Point website. Reservations are not required but are advised. At the time of writing, capacity inside and outside the parks was limited, but the patio was still full by noon. When restrictions are lifted, expect big crowds during peak summer months. Afterwards, grab an ice cream at Salt & Straw downstairs.
Check the Disneyland Resort website for current visitor information and entry requirements. At the time of our visit, face coverings were still required, and temperatures were checked. Downtown Disney District self-parking was available in the Simba Lot for $10 for the first hour. Additional free hours can be added with validation from a restaurant or store purchase.
1540 S Disneyland Dr. #201
Anaheim, California
(714) 687-9813
Visit Ballast Point's website.
Bootlegger's Brewery, Fullerton
Bootlegger's doesn't have the meticulously designed atmosphere of Modern Times or Ballast Point. Nevertheless, their spacious outdoor patio is a casual, comfortable gathering spot for a sunset celebration with friends. Before the pandemic, they had one of those giant Jenga games, which is an outstanding game, especially after a couple beers. Games may still be on hold until COVID restrictions are fully lifted.
Bootlegger's produces a full range of beer styles. A few hard seltzers round out the adult beverage options. At a reasonable 5.5% ABV, the Palomino Pale Ale is a balanced, hop-forward option that doesn't go over the top. Also at 5.5%, the El Chango Mexican style lager is the perfect choice as the summer sun sinks west.
Food is available, but I haven't eaten here, so I can't speak to it. If you crave pizza, Two Saucy Broads Pizza, is a good choice. The sprawling patio, massive sandwiches and oversized mugs of Roscoe's Famous Deli are just a short walk east.
Bootlegger's Fullerton is about three miles southwest of the CSUF campus in the SOCO District of Downtown Fullerton. They also have a newer location in Costa Mesa.
130 S Highland Ave
Fullerton, California
(714) 871-2337
Two for Special Occasions
As of writing, two of my favorite OC special occasion dining destinations had not reopened for dine-in service. However, if you're looking for a more upscale venue for a graduation dinner or other special celebration, keep an eye on Taco Maria in Costa Mesa and Park Ave / Il Garage in Stanton. Yes. That's right—Stanton.
Park Ave Dining
A few miles south of Knott's Berry Farm on Beach Blvd, Chef David Slay's Park Ave and sister restaurant Il Garage sit on the site of a former dairy. Housed in a glorious mid-century, Googie style building, Park Ave's specializes in classic American comfort food with a modern sensibility. Much of their organic produce is grown in their on-site garden. Dining in the "Park" alongside the main building, in the shade of the olive trees is an unparalleled treat.
Il Garage sits across the "park" of Park Ave inside a charming tractor garage. It looks out onto the fragrant, organic vegetable garden. The menu features Italian inspired fare.
If you dine at Park Ave, ask if it's possible to walk through the garden. Keep an eye open for one of their special wine dinners co-hosted by a winery. Their annual collaboration with Dragonette Cellars of Santa Barbara County is a special treat.
11200 Beach Blvd
Stanton, CA 90680
(714) 901-4400
Taco Maria at OC Mix, Costa Mesa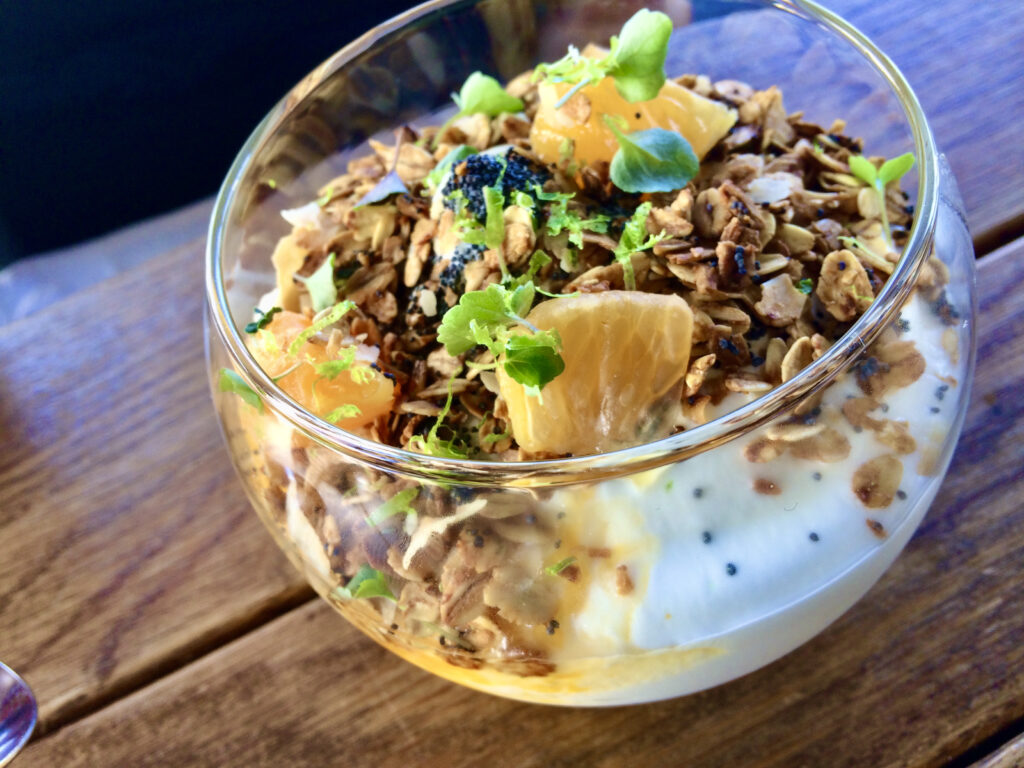 The patio of Chef Carlos Salgado's Taco Maria looks out onto the courtyard fountain of The OC Mix Marketplace in Costa Mesa. Salgado's innovative menus feature fresh, refined Mexican cuisine. Since the pandemic started, they transitioned to take-out only. Their Instagram account indicated they'd soon suspend to-go operations in preparation for re-opening with dine-in service.
The restaurant received a Michelin star in 2019. They were renowned for their prix fixe, multi-course experiential dinners. On weekdays, a more affordable a la carte lunch menu featured incredible tacos on the best heirloom corn tortillas you've ever tasted. Fresh salads and sides of the highest quality round out the menu. The three-course weekend brunch was amazing. At $39, it wasn't cheap, but for Michelin star quality, it was great value.
3313 Hyland Ave Ste C21
Costa Mesa, CA 92626
(714) 538-8444
---
Have you visited any of these patios? Which was your favorite? Let us know in the comments.