Story by Jon Buzdar
Cover Photo by Thom Holmes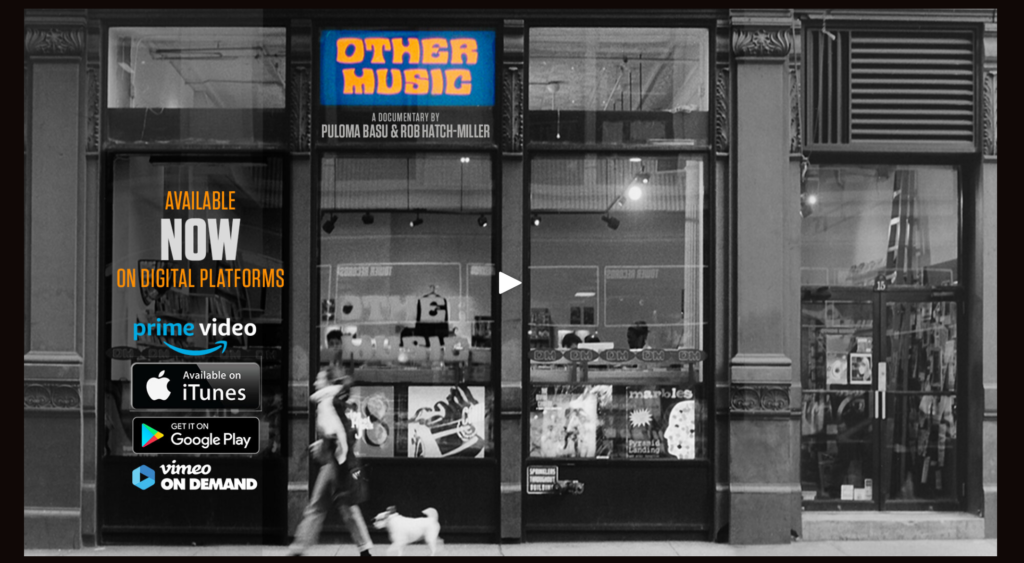 ---
Puloma Basu and Rob Hatch-Miller – directors
Description:
The history of record store Other Music and its influence on music culture in New York City.
Released: August 25, 2020
A documentary about a record store in New York seems like an unspectacular watch if you look at it from that point of view. This documentary is much more than that and in the most artistically beautiful way, it captures a moment in music history. A collection of interviews from staff members, celebrities, musicians, and everyday people who have a special connection to this record store.
Right from the jump, this film paints the record store as an east coast Mecca for music junkies. I wanted to buy a ticket to New York and visit the store before realizing that this film is very much dedicated to the record store that closed in 2016. Described as an institution for many of the local new york music enthusiasts.
The film does a great job of telling the history of the shop through the voices of not only the owners, Josh Madell, Jeff Gibson, Chris Vanderloo but customers and people close to the shop. Highlighting the early history of starting the store right across the street from Tower Records and yet staying in business longer than the music store giant. Describing the relationships between the original owners and also employees, the film invites you into a world that feels timeless and authentic. Throughout the film, as the viewer, you feel as if you are sitting in a room with the cast and having an intimate conversation.
Another special thing about this film is the ability to inspire so much hope in the music industry. In a time where streaming has gained so much momentum and those who still long for physical media tend to feel isolated and lonely in a way, there is a beautiful sense of intrinsic appreciation for music in the purest form.
With all the focus on the music and people in the store, the very core of the documentary is about the human experience. What makes us all human and how music can connect us all. There are moments in the film when your heart sinks and you realize how impactful events in history can be. An important homage to the impact that a record store can have on musicians and artists.
All in all this film captures a moment in history that you may not have been a part of but you feel as if you were front and center during the whole movement. After watching the film, it's hard to not grab one of your records and throw it on the turntable or if you don't own a record player, I think the desire to buy one will be hard to resist. For anyone who loves music, art, and flawlessly orchestrated documentary films, this is for you.
---
How To Watch
---
Watch the Trailer!
---