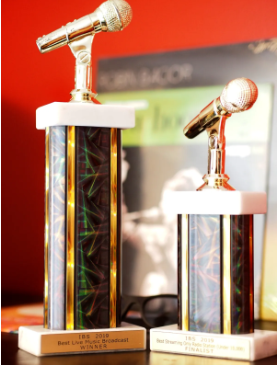 Titan Radio competes in its first national media competition
FULLERTON, Calif. – December 5, 2022: Titan Radio, the student-led radio station of California State University Fullerton, today announced it had been named a finalist in the "Best Phone App" and "Best Show Promo" categories in the 2022-2023 IBS (Intercollegiate Broadcasting System) Awards. The award winners will be announced at the IBS Awards Program in New York City on February 25, 2023.
Titan Radio, which is competing in the national award program for the first time in 21 years, launched Titan Radio's first app for iOS and Android users during the Fall 2022 semester. Webmaster Angel Armendariz and web design intern, David Olivares, created the app as an extension of the Titan Radio website.
"When I first started at Titan Radio, my goal was to expand the organization digitally," explained Armendariz. "With the help of my web design intern, Dave, we created an interactive app that enhances the features of our website and allows for a more convenient listening experience,"
Titan Radio's DJ, Ariana Nava, and radio media specialist, Julio Reyes, created a promotion for an eclectic-style show, "The Realest Radio Show." The promotion's production featured a unique style of audio mixing that reflected Nava's show's style.
"These nominations would not be possible without the dedication of the Titan Radio team, including staff, DJs, street team, and listeners. Everyone is motivated to produce quality work, contributing to the team's success," said Macedonio, general manager. "Nava and Reyes were dedicated throughout the production process to create a promotion that stands out to listeners,"
Titan Radio is always eager to find innovative ways to get creative with programming and operations. Through media competitions, Titan Radio can showcase its talents as one of the nation's leading collegiate media organizations. The Intercollegiate Broadcasting System National Media Awards is the first competition for Titan Radio in 21 years.
The IBS has supported educational media since 1940. The organization supports students by providing educational opportunities, being a voice in Washington DC for student media's best interests, and honoring students' works and stations across the globe.