Written by Eilish Sweeney
---
One of the most important factors of an album that determines for me if it's good or great, is its ability to be listened to from start to finish every time, without the listener wanting to skip songs. Kid Krow, Conan Gray's debut album that was released March 20th, is one of those albums.
As a fan of Conan's for the past three years, I have long awaited this album, and I'm happy to say that I am not at all disappointed. I first became a fan during my sophomore year at CSUF in 2017, back when Conan was primarily a YouTuber. He had put out some original songs on his channel, and quite a few covers alongside his vlogs and inspirational/personal content. He put out his first EP, Sunset Season, the following year.
I saw him during his tour for the EP at The Observatory in Santa Ana, and was blown away by being able to see someone I had admired and watched and felt like I had a connection to through the hours I spent with his music and videos.
In 2019, he steadily released singles as he worked towards the completion of this debut album, and finished the year with his Comfort Crowd tour. I saw him twice at The Fonda in Los Angeles for the closing dates of the tour, and was once again blown away. His stage presence was even more powerful and confident than when I had last seen him, and the 3 singles (Checkmate, Comfort Crowd, and Maniac) that are now a piece of Kid Krow were already well-loved by fans.
My Top Tracks
Heather / Affluenza (I love both so much I can't pick which is my favorite)
Little League
Fight or Flight
Can We Be Friends?
The Story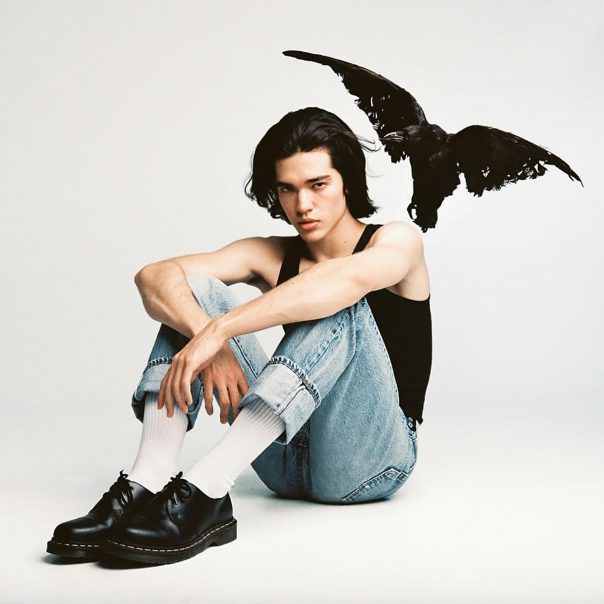 Comfort Crowd
Favorite line: I could spend a lifetime sitting here talking / and even if I cry all over your body, you don't really mind, say you like your shirt soggy
This song was first played during the Sunset Season tour, where Conan described it as a song for his best friend. It's one that's easy to identify with whether you have a best friend you can call anytime and rely on, or whether you're going through a lonely period. Sometimes we all just need someone to comfort us and stick with us through anything.
Wish You Were Sober
Favorite line: I'ma crawl out the window now, cause I don't like anyone around / kinda hope you're following me out
I was completely caught off guard the first time I listened to this song (in a good way). Though the pop beat and chorus that's easy to sing/dance/shout along to give the song a more upbeat feeling, it's contrasted with lyrics of disappointment about a lover who is only sweet and caring when they're drunk. It's about feeling out of place around someone you like, at a party, in a crowd of people, and the emotions that come with getting mixed signals.
Maniac
Favorite line: Psychopathic, don't be so dramatic / we had magic but you made it tragic
There isn't much I can say about this song that comes close to explaining what an absolute bop it is. Once you listen to it, it'll get stuck in your head for weeks, but it'll never get old. It does a great job of capturing the frustration and anger of an ex that calls you clingy and puts you down in front of their friends, but turns around and asks for you back over and over again.
(Online Love)
Favorite line: I can't help but imagine what maybe could've happened / if you weren't just an online love
One of two interludes on the album, (Online Love) is a short, sweet yearning to know what could have happened if someone you grew close to through the internet was someone you were able to spend time with in person. As a generation that has grown up on the internet, it's easy to identify with the curiosity towards a connection you feel with someone a million miles away who you've never met, and whether or not things would be the same if you could be together offline.
Checkmate
Favorite line: So cry me a river 'til you drown in the lake / cause you may think you're winning, but checkmate
Like Maniac, Checkmate was a single that came out prior to the album, and it's a song that doesn't get old either. It's a great revenge track about getting back at someone who's played with your heart one too many times.
The Cut That Always Bleeds
Favorite line: Kiss the bruises 'til they're gone / bittersweet, cause I can't breathe inside your arms
A bittersweet song about being so in love with someone that you can't let them go, but realizing that you can't be with someone who hurts you so much and so often, TCTAB represents both heartbreak and a discovery of self-worth. It's a goodbye that hurts to say, but one that needs to be said.
Fight or Flight
Favorite line: Fight or flight, I'd rather die than have to cry in front of you / fight or flight, I'd rather lie than tell you I'm in love with you
This is one of the strongest songs on the album for me — it's soft one moment, then aggressive the next, both lyrically and musically. This duality reflects the title/chorus; the decision between fight or flight when finding yourself in a situation where the person you love has lied to you, and you find out they've been cheating. It's a great breakup song for anyone who's found them torn in a similar situation in the past.
Affluenza
Favorite line: All these kids have got affluenza, going wreckin' their daddy's Benz / crystal liquor cups, and designer drugs
Conan has talked about growing up in his YouTube videos and interviews, and his family's struggle to make ends meet. After moving to LA and seeing people who grew up in wealthy families were also miserable, it changed his opinion on how money can solve all your problems and make you happy. This is tied for my favorite song on the album- it's catchy, cheeky, and an undeniable bop.
(Can We Be Friends?)
Favorite line: Could you be my best friend? / I'll tell you all my secrets / I'll tell you all the times that I wished I could die
The second interlude on the album, CWBF is a love song both for Conan's friends and his fans. It's a thank you to those who support him and listen to his music. It's soft and vulnerable yearning for closeness, and a commitment to fight for the friends you love.
Heather
Favorite line: I still remember, third of December, me in your sweater / you said it looked better on me, than it did you
I had the opportunity to meet Conan back in January during a fan surprise video for Flighthouse, and when I asked him which song off the new album he was most excited for people to hear, he said it was Heather. At the time, I speculated that it could be a pop-culture reference/play on the 80s movie Heathers, and I had no idea it would turn out to be this amazing and heart-wrenching song. Heather has made me tear up every time I listen to it, and it's tied with Affluenza as my favorite song off the album. It's about hating someone purely because the person you're in love with has feelings for someone else. It's nostalgic, longing, petty, and absolutely beautiful.
Little League
Favorite line: Cause lately I've been feeling strange, and everybody's telling me to act my age / I never thought that everything I had would fade away
I've heard fans on Twitter relate this song to Idle Town, another song where Conan is nostalgic for his past and memories of growing up. Little League is about the sadness of looking back on how simple things used to be, and longing to go back to happy moments. He wrote it for his best friend back home, and about the fear of growing up and things changing. Like Idle Town, it's a song I relate to really strongly- it's hard to grow up and face the future without missing the past. It's a look back to happy times and memories, but not a goodbye.
The Story
Favorite line: I'm afraid that's just the way the world works, but I think that it could work for you and me / just wait and see, it's not the end of the story
The Story feels like a kick to the heart every time I listen to it. I first heard it at the two Comfort Crowd tour shows I went to, and it was incredibly powerful. The room was silent both nights, and I was so overwhelmed with emotion from the lyrics that I felt frozen. It's got a few somber stories in it's lyrics, but it ends on a hopeful note. Gray has said it's about times in his life that were so difficult he wished he didn't exist, but how he was always lucky to find a reason not to give up. No matter how helpless things feel, there are always people who love you and reasons to keep going. It's a great album closer that still puts me at a loss for words when I hear it.
You can listen to Kid Krow here and check out Conan @conangray on social media!