Written by Michael Quintero
---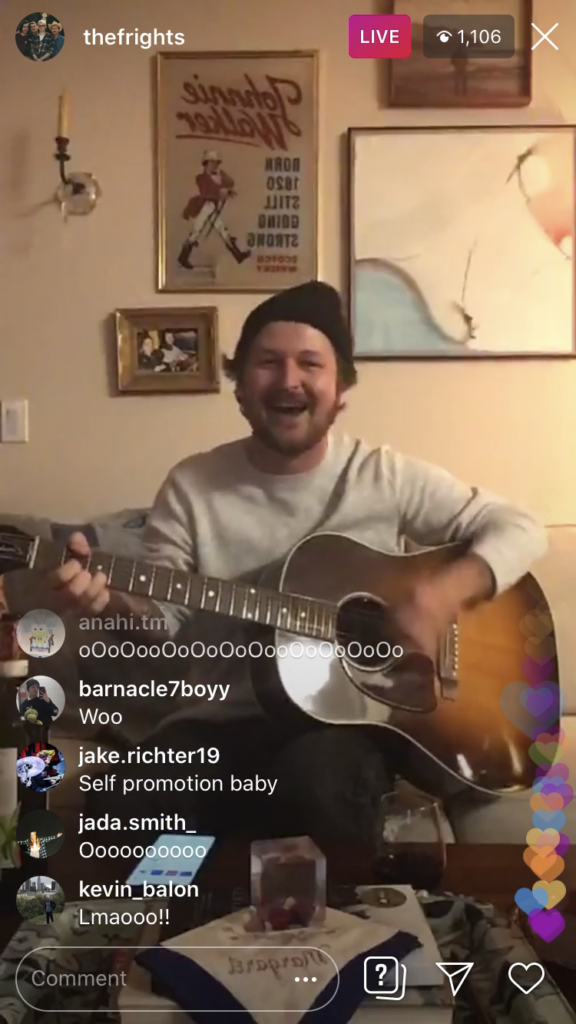 Here I am waiting on Instagram for Mikey Carnevale of The Frights to go live to play the You're Going To Hate This album. Normally I'd be pre-gaming in the car ride to one of their shows, but watching a band virtually isn't as bad as it seems. But, I much rather have a few drinks in me and dodging security to jump off the stage, but that just might be me.
This would be my Eighth time seeing The Frights live if you want to count this one, but it wasn't as different as you'd think besides it just being Carnevale playing by himself on acoustic. Carnevale still had his same sense of humor, by responding to the troll in the comments while drinking his wine.
Everyone in the comments was writing "play Crust Bucket" or "play Beach Porn" even some people were writing some Mac Demarco and FIDLAR songs. At one point Carnevale said when they play actual concerts people shout out songs, but it is more annoying when people write it on chat.
Throughout the hour he joked around with the stream, poured a couple of glasses of wine, and sound quality wise was actually on point for streaming live. Though it was nice to chill and hear the album and not having to deal with someone crowd surfing on top of you, or having to get your feet trampled on. This is probably the only Frights show I saw and didn't wake up the next day feeling sore.
You're Going To Hate This is my favorite album put out by The Frights, from their opening track All I Need to the remasted Kids, the album title track, and Of Age all hit in a different way. I still think to this date Of Age is one of the best ending tracks for any band in this indie/surf/rock/punk scene.
I haven't seen The Frights since Tropicalia 2018, but during that show, they only played Tungs off this album and not the original version. During the live stream, Carnevale played the original version, which I haven't heard since I've seen them back in 2016.
I'm not sure I'd watch a virtual concert with an artist I haven't seen before. I think this stream worked out for me because I have seen The Frights countless times, so this was just more to of course hear songs I've never heard live, but to hear Carnevale interact with the chat.
Also, I don't think I can compare this "live" concert to the others, but I do greatly appreciate Carnevale for doing this for free for the fans. With a lot of fear and anxiety in the world, this was a way for The Frights to give back to their fans.
The Frights have added all their streams to their IGTV, so if you missed this one or the other three albums, you can still catch their show.