By Betzabeh Hernandez Martinez
Coachella Weekend 2 has officially come to an end, ending officially on the 23rd. With two weekends full of a diverse lineup, sunny skies, interactive pop ups, and a lot of activities in between, many are already anticipating next year's Coachella. I'm one of them.
There is a lot to recap over the past two weekends, with special guests brought out during performances (Kali Uchis bringing out Omar Apollo, Zendaya's breathtaking appearance during Labyrinth's set, and more)
While I missed the first weekend, I aimed to attend all 3 days. In the end, I was only able to snag a Sunday wristband, and I was able to catch all the pop-up art installations, activities, and sashay away around the Empire Polo Club grounds.
So, a quick recap of all two weekends:
Weekend 1 – Bad Bunny made headlines as he rocked the main stage with all of his hits from his chart-topping album, Un Verano Sin Ti and some of his notable tracks from YHLQMDLG, including 'Safaera' bringing out Nengo Flow and Jowell y Randy. Metro Boomin threw on a whole performance at Sahara, bringing out guests such as The Weeknd, Don Toliver, Future, 21 Savage, Diddy, and John Lennon. Talk about a performance. This set was streamed live, which brought out the FOMO in everyone. We know this because his set for weekend 2 was packed to the roof.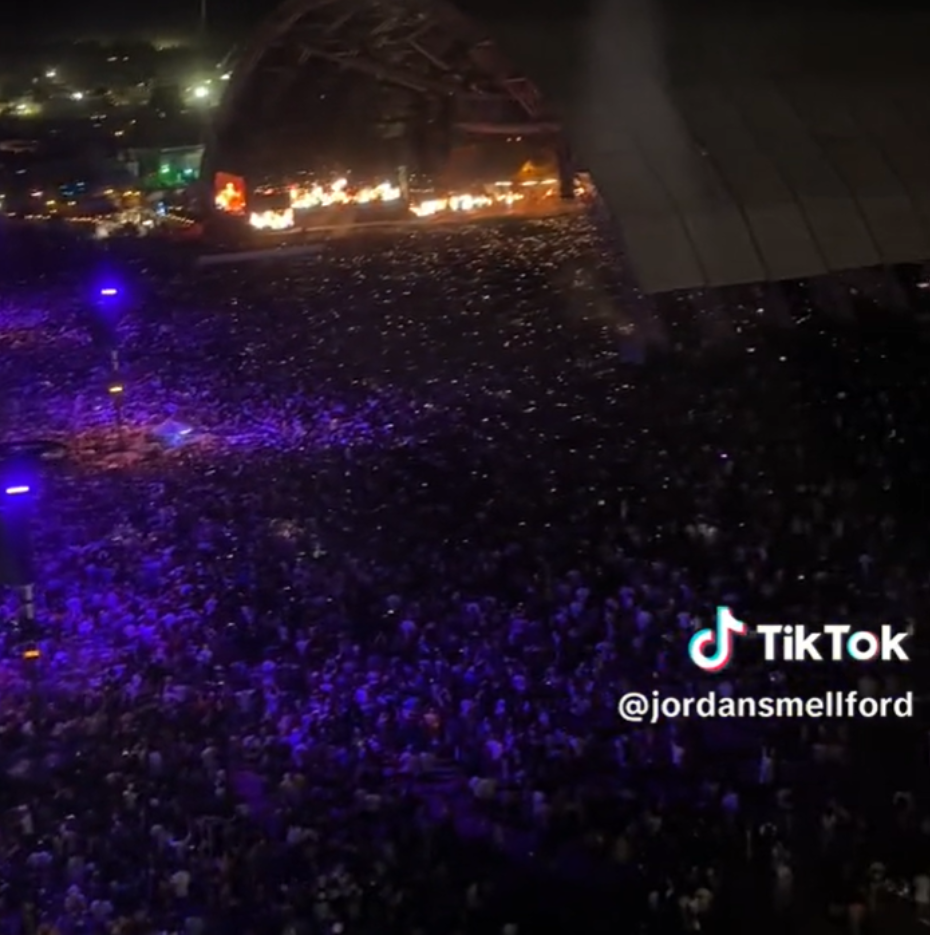 The crowd for Metro Boomin's set for Weekend 2.
Other rising artists in this year's lineup included Rosalia, BLACKPINK, Kali Uchis, Gorillaz, and Becky G.
The most underwhelming performance where we can all collectively agree on was Frank Ocean's anticipated set for Sunday Weekend 1. The reason why Coachella made more headlines aside from the brilliant lineup, was that Frank Ocean has created this reputation of being an elusive and mysterious creative genius. Ocean hasn't performed a concert in over 6 years, which makes sense as to why so many excited fans were anxiously awaiting for Ocean to appear on stage. Multiple Tik-Tok streams were live that night, with many fans wondering what was happening. After what seemed like an eternity, Ocean arrived an hour late on his set and played his popular songs with little to no singing. He ended his set early because of the curfew limit, garnering criticism and backlash over his performance (or lack of), timing, and the last-minute changes to the ice rink production that cost the festival millions. This whole mix up was due to an ankle injury Ocean had, as well as personal issues he faced.
Either way, with the criticism or not, Ocean's fan base only grows stronger, as fans hungrily await his new album, holding on to the hopes with teasers and promos Ocean's teams hints at.
For Weekend 2:
Labyrinth brought out Zendaya as a special guest, which left everyone shaken. Gorillaz brought out Bad Bunny midway during their performance, and Skrillex, Four Tet, and Fred Again ruled the mainstage after Ocean dropped out, throwing out some cowboy dubstep to my surprise.
Since this was my first Coachella ever, I did not have much to compare with. Weekend 2 was the hotter weekend, with temperatures soaring to 98°F. Traffic was bad, as I expected. Taking the shuttle from the nearby hotels and resorts turned a 14-minute drive into an hour and twenty. Once I made it in, I saw Latto's set at Sahara. She had great stage energy and brought out a female rapper from Atlanta as a special guest who I didn't know. After Latto's set, I snuck into the Beer Garden, roamed around, and found myself at the art installation section. I met some great people at Kali's set and went to the outdoor stage where Dominic Fike was playing. The Outdoor Stage had a 21+ section nearby, with a soju bar inside, alongside other art installations, and a chillout seating area. After sunset, it got visibly crowded. I walked past Willow's set in Mojave, and it was a struggle to get past so many people. I checked out the mini club by Mojave and went back to the Outdoor Stage for Chris Lake and Fisher's set.
They did not disappoint one single bit! I had my serotonin fix that night and banger after banger played. The beautiful build ups, riveting house blend of each producer's hits, and Chris Lake's signature style alongside the energy Fisher was bringing, created such an amazing environment and energy from the crowd. Everyone was feeling the music and I kept thanking my bladder for being a trooper and holding it in.
Overall, after reconvening with my friend for Blink-182, vibing to the blasting techno inside the Yuma tent from Adam Beyer's set, and getting back to our hotel room, it was a weekend to remember!
Coachella has ended, and so did StageCoach, but a myriad of upcoming festivals is here. As the spring semester comes to an end, what better way to celebrate this semester as a new grad than to splurge on a bender filled festival weekend? Or if you're not graduating this semester, then that's cool too. You deserve it for surviving this semester.
Here's a list of upcoming fests for this summer:
Joshua Tree Music Festival : May 18-24th

EDC Las Vegas : May 19th-21st

Lightning in a Bottle : May 24th-29th

California Roots Music & Arts- May 25th-28th

Forbidden Kingdom- Orlando, Fl : June 9th-10th

Beyond Wonderland- The Gorge, WA- June 17th-18th

Electric Forest-Rothbury, MI- June 22nd-25th

Day Trip- June 24th-25th

Group Therapy Weekender-The Gorge, WA- July 21st-23rd

HARD Summer- August 5th-6th