By Betzabeh Hernandez Martinez
Ahh yes… the sweet sounds of summer. Cue in California Dreaming. High 80-degree days with more frequent heat waves that reign through July and August … If you are a summer person, then you can understand why this season is so highly welcomed by many. It is when the school recess begins, where fresh faced new grads walk out, and a slew of PTO requests are submitted in for a vacation getaway. The season where days get longer, nights are warm and brazen with mosquitos, and more cookouts and night markets align every weekend.
And on top of that, festivals and concerts galore. It might be noticeable by now that I am an avid supporter of embracing your youth if you have the time and luxury to do so. You only live once so why not attend that concert you've been anticipating for a while?
And on top of that: Doing what you enjoy can be a great way to de-stress. Whether it is going out in nature, spending quality time with your loved ones, or basking in a hobby that brings you peace.
But one of the many ways to de-stress is by none other than going to shows and festivals. There are tons out in LA and in surrounding cities. KCRW Summer Nights, Manhattan Beach Concerts in the Park, and countless others including smaller and more intimate venues too.
There's always something out there for everyone. But with this excitement, and another reason to give you motivation to keep on going and have something to look forward to, another fun aspect is the wardrobe. Let's be real, planning an outfit adds more excitement. You can fully express yourself with the full creative freedom your mind allows. It's also so fun to see how other people dress and how they interpret fashion, especially in relation to a specific theme or occasion.
For instance, Coachella which just passed (Not surprised that I couldn't refrain myself from mentioning Coachella again) drew in a flock of influencers, celebs, and micro-influencers. As someone put it, it is the "Met-Gala of Festivals". While a world-known festival being compared to an extravagant fashion ball event may seem like a far-fetched analogy, both events share a common element of showcasing creativity, expression, and individuality through the art of dress and performance. It is a place where you can appreciate how well dressed everyone is and how creative people are, nonetheless. I seriously could not stop counting how many beautifully well-put together outfits I saw and kept taking second glances at someone's platform shoes or makeup looks. I wouldn't consider myself a fashionista or someone who has a killer fashion style, but I do admire fashion and love compiling fashion boards.
So here are some boards I put together, as well as some outfit inspirations for your next festival or music event.
Lollapalooza Chicago & Bonnaroo
FUN IN THE SUN – Sheers, Sequins, Braids, Tie-Dye and Swirls Patterns, Shorts, Arm Sleeves, Neon Colors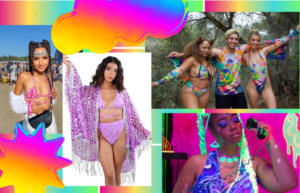 Alternative to Pastels- Red against Black, Sequin, Fringe, and Garter Chaps, Cowboy Prints, Hats, and Shoes, Sheer Lace Robes, and Chain Accessories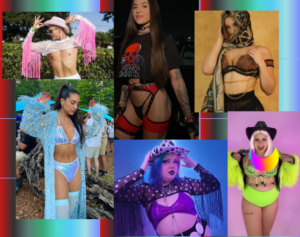 Incorporate sustainable and eco-friendly fashion into festival outfits. Look for clothing made from recycled materials or organic fabrics. You can also accessorize with sustainable jewelry or a reusable water bottle. There are whole Facebook groups where people share their handmade outfits from recycled garments, up-cycled dresses and rave attires, such as Rave Sewing DIY Tips, Tricks, and Support. If you want to be more sustainable, I recommend checking out some of these Facebook groups and YouTube videos and other resources online.
Accessorize with statement jewelry, such as oversized earrings or layered necklaces. These pieces can add a pop of color or texture to any outfit and make a statement. Monochrome makeup also adds an extra flair to your whole outfit, creating more emphasis.
Experiment with different hairstyles, such as braids or top knots, to complement festival outfits. These hairstyles are not only practical in the summer heat, but they can also add a fun and playful element to your look. A good place where you can get your hair braided is at Rave Wonderland's events where they host hair braiding days right before big festivals. Keep your eye out for upcoming announcements by them!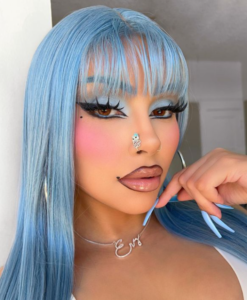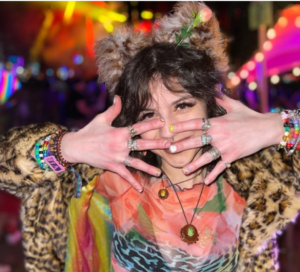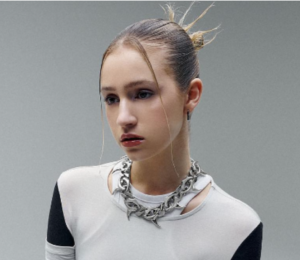 From left to right : Monochrome pastel look from Instagram user : evyxo_ ,
picture of Instagram user : cubanthugg on RolitaCouture, and stunning viper necklace from Vitaly.com
Neon colors are a trend that has been making a comeback in recent years. This trend features bright, eye-catching colors that are perfect for festivals. To nail this look, try a neon-colored crop top with a pair of high-waisted denim shorts. Accessorize with a fanny pack and some chunky sneakers. This style is perfect for those who want to add a pop of color to their festival look.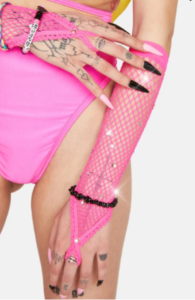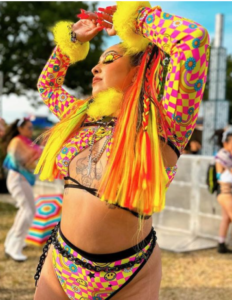 Top to Bottom: Rhinestone fishnet gloves from DollsKIll and neon hippy two-piece set from Freedom Raver
Add a touch of metallics to festival outfits with shimmery makeup or clothing. Try a metallic crop top or skirt, or add some glitter to your makeup for a fun and playful look.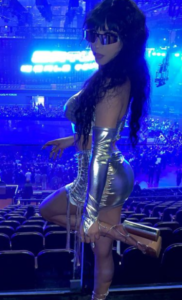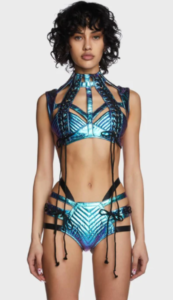 Top to Bottom : Metallic Dress from Instagram user : pizzagoddessxo. Metallic One-Piece and Two Piece "vikinis" from Voight's SS23 Collection, futuristic two-piece set from DollsKill
Incorporate sheer fabrics, such as mesh or lace, into festival outfits for a unique and edgy look. Try a sheer top or dress over a colorful bralette or bodysuit for a fun and playful look.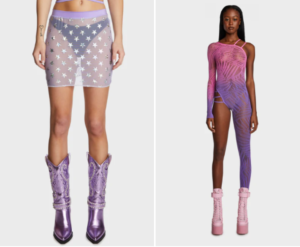 Left to Right : Sheer star skirt and boots from DollsKill and one-piece lace set from DollsKill
Crochet is another popular trend for summer fashion. You can find crochet dresses, tops, and swimwear in a variety of styles and colors. Crochet adds a bohemian and feminine touch to any outfit.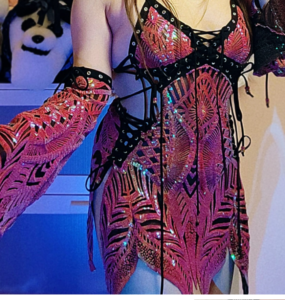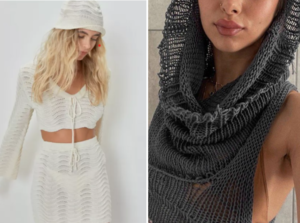 Top to Bottom: Crochet Pink Dress from Ivan Kim on Facebook MarketPlace, White Crochet Two-Piece from NastyGal.com, and Hooded Crochet Knit Cropped Tank Top from Emmiol.com
Have fun this summer and do not forget to stay hydrated and safe in the sun!