#5) Purple, Green, and Black Stripes
This fit is number five on my list, simply because this was my show. Personally, I actually feel like this fit was a lil ugly, but I liked the sparkles, and this show was also featured in the satellite music video. Fun fact: I actually saw the robot in person, thought it was odd, and then left the concert.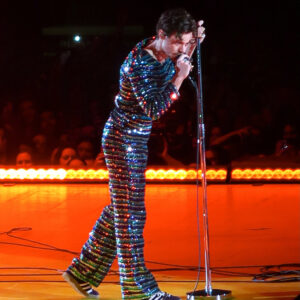 #4) H.S. Heart Jean Jacket
This fit is number four on my list because who doesn't love a jean jacket moment. I think that the two tone blues are pretty cool. I also love that hearts and the lining of the seams are all jeweled out. Not to mention the fact that it was open chest jacket so you could see his moth and bird tattoos.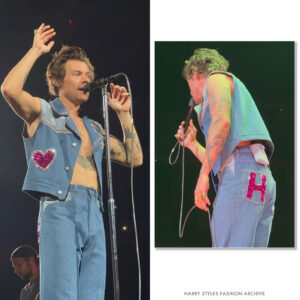 #3) Blue and Pink Fringe Jacket
This fit is number three on my list because it has Fine Line colors, and Fine Line is my favorite Harry album. I also love the fringe and once again, the visibility of the tattoos. The satin look also gives a sense of comfy with the cuteness.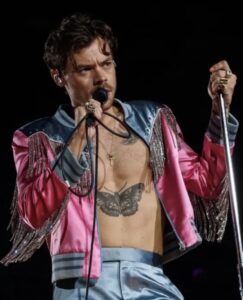 #2) H.S. Hot Pink Leather Fit
This fit is number three on my list because it's giving Sharpay Evans, and I love High School Musical. I also love the sparkly cherry and strawberry. The belt also just really pulls the whole fit together. I also look at it as an ode to his Fine Line Era. This fit is just iconic all around.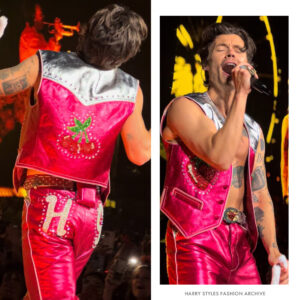 #1) Lavender Sparkles
Last, but not least, this fit is my number one on my list, only because lavender is my favorite color of all time. The pants also looked super comfortable, and I love comfortability. One thing about me is that I am a sucker for flowly pants. This fit was just an all-around slay for me.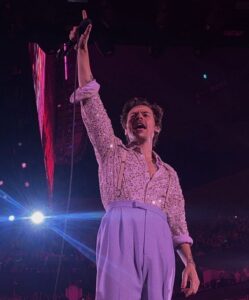 Anyways, if you like Harry Styles, you should listen to my radio show, "Your Temporary Fix" on Tuesday's at 4pm. Also be sure to follow my insta @yourtemporaryfix.tr