Summary
A DJ chart of tracks played by Titan Radio DJ Yung Dave over Spring semester '22.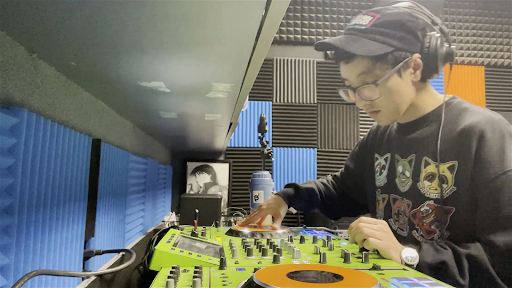 Titan Radio – Spring '22 DJ Track Chart, by Yung Dave
I've been a vinyl DJ since late 2019, practicing on my Technics and trainwrecking mixes most of the time until I gained the confidence to put it out publicly around mid-2021 on YouTube under a series of A/V sets called 'Practice Sessions'. However, ever since Julio, our primary radio media specialist, joined Titan Radio over Spring semester '22, I've been increasingly involved with DJ activities through his Titan Radio After Hours show. TRAH is a two hour show where Julio brings in his neon-plated XDJ-XZ and invites DJs from the underground music scene around California to do two DJ sets and a few interviews. I've had the wonderful opportunity of playing a full show for AH's sixth episode, and I hosted a few shows and interviewed Julio as well as San Bernardino-based DJ and producer Phayla. Most of the time, I play warm-up sets before the guest DJs arrive and afterwards before setting things down – this allows me to get some much needed practice time on digital decks, something I don't take for granted.
Here's a few tracks I've noticed that I regularly played in my practice sets over at the Titan Radio booth:
Kurama – Arabesque
I can't help but go crazy and stupid every time I play this in the booth. I just go wild and jump around during the drop – it's too fun to just stand around while listening!
'Arabesque' is the first track of Belgian producer Kurama's double single "Arabesque / Thistle Plate", released right before the start of the pandemic. Like most of his productions, it's a wonderfully energetic take on trance music laser-focused for the club with a hint of tenderness that aims for the heartstrings. It's devoid of any distinct genre signifiers, yet it's a great banger in its own right.
Chemist – Raziel
This one's dark as vantablack. 'Raziel' is an icy cold drill track from beatmaster Chemist (also ½ of duo Shell with Tom E. Vercetti). It goes so hard with so few elements, with its sparse production utilizing empty space with incredible finesse. This makes 'Raziel' perfect for long blends and smooth mix transitions, and it's a good track from mixing from 140 bpm to 150/160 bpm or vice versa.
LAS – Power Surge (Desto Remix)
Finnish bassmaster LAS has made profound impacts in the 140 scene with releases on flagship labels, from legendary 2010s imprint Black Box to flagship labels Innamind and System. One of my most favorite tracks from him is also a remix – a trappy, drum machine-edged take of LAS's 'Power Surge' from fellow Helenski stepper Desto. This 808-tinged halfstepper takes as much influence with dubstep styles as much as footwork and electro, making this remix a perfect curveball track for 140 mixes and beyond.
hnrk – Pareidolie (Gohda Remix)
Gohda's remix of hnrk's Pareidolie is a super fast-paced track, with a steady and vibrant energy akin to Arabesque. In fact, I love blending these two tracks together. Shoutouts to Kurama and Gohda. Anyways, this happy-hardcore inspired banger is just sooooo ridiculously fun. I should give a shout out to the rest of the Aequorin Remix EP – Bulma's remix of the title track is a bassline skanker perfect for shaking up 140 sets, Swimful's remix of 'Pareidolie' is a wonderful, cinematic take on UK drill, and bk beats stirs things up with a groovy plug beat / RnB remix of 'Bathyal'.
Dark0 (honorable mention)
I played Dark0's tracks like five times for my first show on Titan Radio After Hours. Because of that, and also because he's one of my most favorite producers of all time, Dark0 gets a very honorable mention – I try to include his tracks in all my mixes.
Fayt (another honorable mention)
Fayt is the goat!!! Just listen to fayt, right now. Whether it's the pop-house sounds of 'cleaner' and 'downdowndown', the mind-blowingly epic 'bluesclues' or the breakbeat pressure of fayt's 'ldm edit' and 'prophecy', all these tracks showcase a ridiculous amount of talent. Once again, listen to fayt now.
J:Kenzo – Taygeta Code
Just put the whole damn album in there. J:Kenzo's 'Taygeta Code' is a healthy blend of malleable dubstep styles alongside a few drum and bass tracks. There's lots of heavy hitters in this LP, from vocal-led 'Like a Hawk' featuring grime topdog Flowdan, to acid-stepper 'Hoodwinked', to the absolutely wild and brukout crazy 'Narky (Body Dem)'. The album goes through multiple directions after that, including the more laidback techno influenced groove of 'All In' and the faster tempos of 'Guilty' and 'Token Image'.
Toby Fox's music!!!
Nobody ever told me that Toby Fox's music is great for use as DJ tools! He's as prolific as a video game developer as he is a composer and musician; in fact Undertale and Deltarune pretty much took over my life over the beginning of this year (and still continues to this day, really). His music from both games can be used for DJing in various contexts – 'Rude Buster' is perhaps the hardest video game track EVER, but it's also an excellent track for switching things up in 140 sets. 'A Cyber's World?' and 'Field of Hopes and Dreams' are slower tempo songs with infectiously catchy melodies, and are just in general super fun to listen to. On the other hand, Fox's more compositional pieces provide highly emotional moments for mix interludes or ambient sets. I can attest to this – 'Undertale' breaks my fkn' heart every damn time I listen to it.